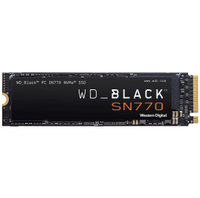 WD Black SN770 NVMe | 1TB |PCIe 4.0 | 5,150MB/s read | 4,900MB/s write | $51 at Amazon
This DRAM-less drive may not offer the absolute fastest throughput, but it is close, and in terms of value for money, it's in a class of its own. 1TB for just $51 is worth picking up.
Amazon recently dropped the price of the best budget SSD you can buy right now to $51. So, if you're still one of those HDD holdouts (and we know you're out there), now might be the best time to give your PC the upgrade it deserves.
I know you're tired of hearing this, but games are only getting bigger and bigger. And if you're looking to play Starfield in a couple of months, you'll need an SSD as a minimum requirement, and to accommodate its whopping 125GB install we'd suggest now's the time to pull the trigger on a 1TB drive.
The WD Black SN770 is generally pretty affordable, usually around $65-$70 most days. In the last few weeks, however, we've noticed big price drops on a lot of NVMe SSDs, including some of the best SSDs for gaming.
Our review of the SN770 last year praised its performance despite being a DRAM-less SSD drive. It's a nice entry-level PCIe 4.0 with read and writes speeds of 5,150MB/s and 4,900MB/s, respectively. One of the only issues with the drive is that it can run a little hot, so that's something to keep in mind if your only M.2 slot is under your beefy graphics card.
If you need a little more space, Amazon also has the 2TB version of the SN770 on sale for $110; however, if you've got the room on your motherboard, it's actually cheaper to pick up two of the 1TB models.
You might see some really cheap 512GB SDDs out there, but given the low price of 1TB drives, I would avoid them, especially if you're looking to store a good portion of your Steam library. These days 1TB should be the absolute minimum size you should be shopping for regarding SSDs.