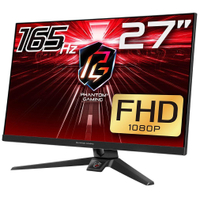 ASRock Phantom Gaming | 27-inch | 1080p | 165Hz | 1ms response time | IPS | FreeSync Premium | $179.99 $144.99 at Newegg (save $35)
You don't have to spend a lot on a gaming monitor in 2023. This ASRock screen proves it. Just take a look at that specs list, and for $145? It's exactly what we need for modern day gaming on a budget or mid-range gaming PC, and nothing more.
ASRock might be new to the gaming monitor game but it's not messing around with its first products to market. This 1080p panel might not offer the highest resolution, but for most budget graphics cards it'll be a superb fit.
With an IPS panel, you'd expect to pay a lot more for a gaming monitor like this. Yet over at Newegg you'll be asked to spend just $145 on the ASRock Phantom Gaming PG27FF1A.
That's $145 well spent from a look at the specs list. This 27-inch panel is larger than the 24-inch lot we see around this price usually, and it's also built using IPS technology. IPS is the preferable screen technology of the three LCD types we see today—TN, VA, and IPS—due to its great colour reproduction and speedy response times.
This Phantom Gaming screen enjoys speedy response times at 1ms MPRT, and you can push up to 165Hz refresh rate on this thing, providing your graphics card can handle that sort of speed. Luckily if you can't match that refresh rate exactly, this panel comes with FreeSync Premium to keep your GPU and screen in sync.
All in, this is another great gaming monitor for a great price from ASRock. We recently reviewed its PG34WQ15R2B (catchy name, I know), and found it was another impressive stab at an affordable panel, but that monitor is an ultrawide if that's more your thing.
If you want to check out our up-to-date list of the best cheap gaming monitor deals today, go right ahead, but you'll find no 27-inch monitor with these specs for cheaper than this.