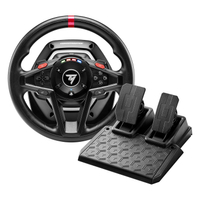 Thrustmaster T128 (PlayStation version) | Pedals included | $199.99 $149.99 at Amazon (save $50)
This is a great price on an already very good value racing wheel. In fact, it's my pick for the best racing wheel on a tight budget, and a great way into more serious racing games.
You can spend as much as you like on a sim racing setup. A couple of thousand wouldn't be entirely unreasonable, and ten times that might net you a setup worthy of an F1 champion. But you really don't have to go big or go home, at least not when you're starting out in the racing world. You can get by with the absolute basics.
Calling this Thrustmaster T128 basic is a disservice to this budget champ. It shares the same Hybrid Drive System as its larger sibling, the T248, albeit with less power, yet this delivers force feedback far more impressive than most cheap wheels. It's certainly more powerful than the TMX, our previous budget racing wheel pick.
The benefit of this powerful force feedback is you'll feel more resistance through the turn of the wheel, and that translates to more accurate steering. Even compared to the pricier G923 from Logitech, I prefer the wheel feel(™) of the Thrustmaster lineup. In my review of the T128, I really was so impressed with the wheel's response.
The T128 does feel pretty cheap when it comes to the plastic shifters on the rear of the wheel, even versus the similar T248. Though in my testing I never missed a shift with the T128, I didn't love the feel of them. Still, for this much money, I'm more focused on reliability than looking, or even feeling, nice.
I also don't love the pedals on the T128. There's just two of them, and they're pretty rubbish under foot. They're pretty much all plastic in construction, too. I can see why the much improved T3PM pedals aren't included here, as they are on the T248, but the pedals are the worst bit of the package.
This may sound like a couple of big negatives, but we're talking about a supremely cheap, but genuinely decent feeling, racing wheel. I can stomach the pedals—you won't find much better on this budget—and the plastic construction is a property all cheap wheels share. The important bit is that the feedback and accuracy through the wheel itself is excellent. For a way into more serious racing games, I don't recommend anything else.
The Xbox version is also on offer down at $149.99 but since we're on PC we can use either of them.