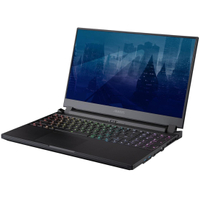 (opens in new tab)
Aorus gaming laptop | 15-inch | Nvidia GeForce RTX 3070 | Intel Core i7 11800H | 16GB RAM | 1TB SSD | 240Hz | 1080p | $1,899.99 $1,199.99 at Newegg (save $700) (opens in new tab)
There's a lot to like about this Aorus laptop's specs, even though it's resolutely a last-gen machine nowadays. The RTX 3070 is a good fit for its 1080p, 240Hz panel, and that with an eight-core CPU is a good match-up for most use cases. There's a good build quality here, too, with enough connectivity for day-to-day use on the move and hooking up to a desk setup at home.
Between all the RTX 40-series gaming laptops (opens in new tab) headed out over the next few months, it's easy to look past cheaper options that are still as viable as ever today. Take this 15-inch Aorus fitted with an Nvidia GeForce RTX 3070 for $1,200 (opens in new tab) at Newegg, for example. That's not a bad deal, even with the next-gen looming overhead.
For the longest time we'd only find RTX 3060 laptops for around this price tag. However, recent price cuts due to the holiday season, supply to burn through before the next-gen, and just a general malaise in the PC market appear to have taken a toll on the price that retailers feel they can sell these devices for. We're much more likely to find a solid RTX 3070 laptop for the $1,200 mark today than ever before, and this Aorus device is definitely that.
Unlike some systems which focus too heavily on GPU power and don't round out the remaining parts very well, this machine does come with a smart spec. That includes a 1TB PCIe 4.0 SSD and 16GB of RAM. It's also fitted with a speedy 240Hz 1080p IPS display.
Though that GPU and Intel Core i7 11800H combo does make for a mean gaming machine, and one that will utilize plenty of that frame rate in many top-tier games, if not utilize it fully in competitive games. The CPU is a bit older now, but it's still a reputable Core i7 with eight cores and 16 threads to throw at gaming and creative applications.
The Aorus chassis is also fairly sleek for this price—you will often have to spend quite a bit more for a more slender chassis, like those that Razer offers with the Blade line-up. We can make do with this Aorus design for a lot less cash, and it's definitely not on the chunkier side of what's possible. Some laptops are barely portable, yet this 15-inch unit will be alright in your backpack.
If you're not in a huge rush to pick up a laptop just yet, we expect to see the rest of Nvidia's mobile GPU lineup later this month, and AMD's starting things off with a cheaper mid-range Radeon GPU in mobile too. There will be some pretty appealing laptops at that time, but no doubt they won't come with anywhere near the sort of discounts we're seeing today on RTX 30-series machines.