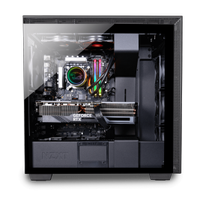 iBuyPower Gaming RDY NTBG204 | RTX 4080 | Core i7 13700KF | 32GB DDR5 (2x16GB) | 2TB NVMe SSD | NZXT H710 chassis | $3,099 $2,599 at iBuyPower (save $500)
If you're looking for an RTX 4080 gaming PC, you probably don't want to make many sacrifices on your spec. That's why we like this iBuyPower PC. It has the GPU and CPU we're after, but it's also great on storage space and system memory. And that NZXT case is better quality than some cheaper chassis we see on pre-built PCs.
I'm used to seeing pre-built gaming PCs with something missing for a decent saving. Be it the CPU is a bit underpowered, the SSD is small, or there's a single stick of RAM running single-channel (this one is especially egregious), there's usually a concession made somewhere. But that's not the case with this iBuyPower machine: the catchy titled 'Gaming RDY NTBG204' is a very well-rounded machine for $2,599.
The attention-grabbing component here is the Nvidia RTX 4080, which is a mighty graphics card for the right money. It's a little too pricey for our tastes alone, but combined with a decent saving on a larger machine like this and it's definitely worth a look.
It won't struggle at 4K, and that's the resolution you want to run this graphics card at. That or pushing a very high frame rate at a lower res. With DLSS Frame Gen helping performance along in supported games, you can pair this GPU with a mighty fast 4K screen and actually hope to get top performance out of it.
That sort of GPU could be constrained by a weak CPU, and that's why it's great to see a plenty powerful enough CPU in this machine: the Intel Core i7 13700KF. This is one of Intel's up-to-date 13th Gen chips, built around its hybrid architecture, and includes eight Performance Cores and eight Efficient Cores. That's as many as the Core i9 12900K from the last generation, but the Core i7 13700KF runs 5.4GHz Max Turbo.
In other words, it's very fast.
Those are plugged into a non-disclosed Z690 motherboard with 32GB of DDR5 running at 5,600MHz. While it'd be nice to know the board used here, at least that memory is guaranteed to be dual-channel. And it comes with RGB lighting.
There are a few other highlights here. The 2TB NVMe SSD is pretty chunky for a pre-built PC, and with the price of SSDs crashing in recent years, I'm glad to see that sort of capacity as standard. It'd be great to know the exact model, however. The other thing is the case. This is all stuffed in NZXT's H710 chassis, and having built into many a NZXT case in the past, that's a great choice. They're super easy to build into, but even though that step has been done for you (except the GPU, which will ship uninstalled) this chassis is an easy one for upgrades.
Last but not least, iBuyPower includes a 3-year warranty here. One year for the parts, the full three for labor.
While we've seen a couple of RTX 4080 PCs going for less than this to date, they've not quite been a match for the memory spec. There are similarly priced builds with worse out there right now, and for the money, this appears a decent get from a well-known PC builder.
If you're looking for something different, we keep a list of the best cheap gaming PC deals live at all times.