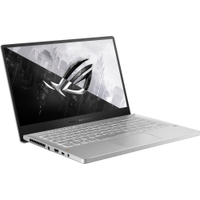 Asus ROG Zephyrus 14 | Nvidia RTX 4060 | AMD Ryzen 9 7940HS | 14-inch | 1080p | 165Hz | 16GB RAM | 512GB SSD | $1,599.99 $1,199.99 at Best Buy (save $300)
If you don't want a hulking gaming laptop, let me introduce the Zephyrus 14 (see our review): a 14-incher that can game without busting your bank balance or your shoulder when lugging it around—no-nonsense specs in a delightful package. This is the latest version with the RTX 40-series GPUs; this is a very smart package, though not the most affordable RTX 4060 machine by any stretch, it is still a good deal for this delightful little laptop.
Price check: Newegg $1,764.99
I'll be frank: You can get RTX 4060 gaming laptops on sale for less money than this. You can even get an RTX 4070 gaming laptop for less than this. And with Black Friday deals flying fast and furious, there will surely be more to come. But what makes the G14 worth your time is its svelte 14" form factor, which I love—it's brilliantly easy to pack it away inside a backpack or luggage when you're heading out on the room—and its seriously powerful CPU, which you won't generally find in cheaper models.
First off, you can pick up this gaming laptop for $1,200 over at Best Buy. That's a reduction of around $400 on the regular sale price, though I can't see many shifting for $1,600. This discounted price seems a fairer asking price, considering the quality of the device.
I just wrapped up my Asus Zephyrus G14 (2023) review, which led me to rating it as the best 14-inch gaming laptop, so I'll quickly run through some of the best bits of the G14 from my time with it. The model I took a look at differs a bit from the one on offer today in that it was fitted with an RTX 4090, an entirely too powerful GPU for this slim machine. Still, plenty else tracks between that high-end model and this 4060 one.
The CPU is the same as the one I checked out: AMD's Ryzen 9 7940HS. It's a superb processor from the red team, with eight cores and 16 threads total to throw at whatever workload you want. It's an up-to-date processor that delivers performance in both single-threaded and multi-threaded workloads, but importantly will keep up while gaming. It's also pretty handy for its integrated Radeon 780M graphics, which isn't going to square up to an RTX 4060 but is going to be a whole lot more power efficient in those games where you don't need to push high frame rates.
For its small footprint, Asus sure has crammed plenty of ports down the sides of this device. You'll find USB 3.2 Type-C and Type-A ports, and a USB4 Type-C for high bandwidth connections. There's even a microSD card reader on this thing, which saves buying a dongle.
The keyboard and trackpad are also highlights for me. There's nothing special going on here; just a well spaced keyboard makes for easy typing and a responsive trackpad that prevents any frustration when trying to navigate around Windows.
Like I say, I haven't benchmarked this specific model of G14 with the RTX 4060 to see how it exactly performs, but I have benchmarked other RTX 4060-powered laptops, like this Gigabyte G5. You can work out a rough idea of performance from the benchmark numbers in that review, though generally you're looking at a GPU that should be able to push well into high refresh territory in less demanding games, and nail a steady 60fps in prettier looking games. You also have DLSS and Frame Generation to help game performance along a bit in compatible titles, thanks to this being an RTX 40-series GPU.
While I still think you need to be a someone with a specific need for a more compact gaming laptop to opt for this G14 over, say, the RTX 4070 TUF laptop on sale for $1,000 right now, it's an option I feel is still worth mentioning. I love the compact chassis used here, and it's hard to ignore how impressive the rest of the spec is for such a small device.