Year 1995
Developer LucasArts
Article by Andy Kelly
Full Throttle was a huge leap from Day of the Tentacle, with fullscreen animation, 3D models, and lavish production values. "We got a lot more ambitious," says Schafer. "We had all these kinetic, cinematic chase scenes with 3D vehicles, and that scope really hit us hard when we realised how much time it would take to make. We tried cutting some stuff, but it was still a huge, expensive project..."
Year 2013
Developer Fullbright
Article by Cara Ellison
"The reason that we could go a year and a half from 'let's try downloading Unity' to 'we have reviews of the game up online'," Steve says. "Is because we came up with a very small well-scoped plan early and then we just did it, and we didn't run into anything where we lost four months of work or anything else. There was a lot of luck to that, we are insanely lucky that we found Kate Craig who did our 3D art, because a month or two after we started on the project we happened to meet her, she just happened to be a 3D artist, and she happened to be interested on working on something new..."
Year 2016
Developer IO Interactive
Article by Phil Savage
Hitman's second level began as two words: coastal town. "This was the only direction we got," says Torbjørn Christensen, lead level designer. "So we really had a lot of freedom to be creative." That coastal town would become the game's standout level, against which subsequent Hitman episodes are compared. For many, myself included, it was the level that proved IO knew what it was doing—that after Absolution, and despite a controversial episodic release plan, the studio was back to making quality assassination sandboxes..."
Year 2015
Developer Dennaton Games
Article by Andi Hamilton
"I have a band called Fucking Werewolf and I had an idea for a long time that I would like to make a music videogame for it," Wedin says. "I started hanging out with Jonatan and his brother. He was making games, so I approached him and asked if he wanted to make this game with me, and he said he would do it on the one condition that I made all the graphics, because he didn't want to make it all himself! So that was the first time I ever did pixel art..."
Year 2013
Developer Cardboard Computer
Article by Joe Donnelly
"I started off saying and thinking I wanted to downplay the roles of the setting but I guess it's true: the place is really important to me," says Jake Elliott. Before moving to Kentucky himself, Elliott often travelled to the Bluegrass State to visit his wife's relatives. En route he'd wonder at the journey's contradictory landscapes and environments, and the vastness of both its surface and cavernous highways within Mammoth Cave—the world's largest known cave system..."
Year 2016
Manufacturer Logitech
Article by Wes Fenlon
"The very basic starting point was I wanted to make a wireless mouse that was professional grade," Pate said when he first showed me a prototype of the G900. "The highest echelon of gamers that I can think of, that would be concerned about performance, would be Counter-Strike pros. So at a very, very high level, professional grade wireless gaming was the original target..."
Year 2003
Developer Remedy Games
Article by Andy Kelly
"It all comes down to world-building," says Lake. "How do you create an imaginary world that feels like a real place? In a contemporary setting, things like music, television, and movies are very much present in our daily lives. And when you're building a world, these details become opportunities to bring colour to it and add to and comment on the story's themes..."
Year 2008
Designer Matt Leacock
Article by Rick Lane
"By 2013, Matt Leacock was already a successful boardgame designer. Pandemic, the cooperative game in which players try to save the world from a disease outbreak, had released in 2007 to both critical and commercial acclaim. Over the next few years it spawned multiple expansions and spinoffs, and its publisher, Z-Man Games, was always looking for further ways to spread it across the globe..."
Year 2013
Developer Grinding Gear Games
Article by Jeremy Peel
"The thing we were worried about with our closed alpha was whether or not people would actually keep playing overnight," Wilson recalls. "This was basically us inviting our friends and family to play, and they'd play for a few hours to humour us. But if this person was willing to call in sick the next day and not go to work because he could be the number one player in the world in this upcoming action-RPG, which was his goal, then we had something..."
Year 2018
Developer Obsidian Entertainment
Article by Andy Kelly
"I'm a big fan of the Hitman series," says Jorge Salgado, a senior designer at Obsidian Entertainment "I love that kind of emergent gameplay. There are so many ways to solve problems, and a lot of them are really funny, too. So when I designed Fort Deadlight I wanted to have a couple of amusing ways for the player to deal with Benweth, not just fighting or intimidating him..."
Year 2007
Developer PopCap Games
Article by Graham Smith
"The prototypes I did were more luck based and random. The prototypes Brian [Rothstein, the programmer] did were more skill based, and there were good things and bad things about both. We got to a point where it was really fun, but it was overly twitchy. It needed fast reflexes and we sort of said, this is fun, this could be a game, but we didn't know how accessible it was going to be..."
Year 2017
Developer Arkane Studios
Article by Joe Donnelly
"Over the course of development, we had all these different types of versions. At one point we decided it was going to be an amber gun, it was going to shoot amber-like fluid and then harden into solid, transparent amber. And then we went away from that and then eventually ended up saying: let's just put an 'L' in there and then it's the Gloo Cannon..."
Year 1997
Developer id Software
Article by Rory Milne
"Kevin Cloud stepped up to lead the project and refocus us on something that was more story-based and set in a different universe. Kevin had this great idea where he said: Guns Of Navarone. That was the inspiration for Quake II, and it made sense because in the movie the Allies had to knock out the big guns that the Germans had before they could assault. So in Quake II, your job would be to knock out the big guns before the big dropships could come in..."
Year 2006
Developer Tripwire Interactive
Article by Dan Griliopoulos
John Gibson, lead programmer, recalls why they made it. "No one was making the game we wanted. A lot of the 'realistic' shooters played like Quake with WWII weapons. We introduced a whole bunch of revolutionary things that are common now: 3D iron sights, proper ballistics, realistic player movement, player damage..."
Year 2019
Developer Capcom R&D Division 1
Article by Andy Kelly
Drive north from Capcom's headquarters in downtown Osaka, along the Tosabori River, and in about 20 minutes you'll see a unique red-bricked building with a domed roof. This is the Osaka City Central Public Hall, one of the city's most beloved buildings and part of the inspiration for the Raccoon City Police Department in Resident Evil 2. This iconic setting, which fans count among the series' best, was confidently reimagined in the 2019 remake, and this is the story of how it was designed...
Year 2017
Developer Team Cherry
Article by Wes Fenlon
"One of the earlier things we did was come up with the basic progression. All the character's abilities, and then we got them into a rough order. At the same time we were talking about the basic structure of the world. At the start it was basic: 'this is the shape of the world, and the characters are going to get these power ups in this specific order, what is the line, the path they take through the world to get those power-ups.' And then, from there, as the game expanded, we started to do things like change that power-up progression from a linear thing to section it out..."
Year 1993
Developer LucasArts
Article by Ashley Day
Purcell was charged with the difficult task of creating a game that got the balance between story and puzzling just right. "You try to be aware of the amount of time you have players sitting and watching as opposed to interacting. Fortunately a lot of the humour came out of the way that the characters would respond to the player's actions..."
Year 2018
Developer D3T
Article by Andy Kelly
"The original code was written by Japanese developers, so all the comments are in Japanese. We used Google Translate a lot to try and get a handle on what the code was doing, but it's often not clear. Shenmue 1 had the additional problem for us that the game logic was written in a separate scripting language and ALL the function names and variables were in Japanese too..."
Year 1998
Developer Blizzard Entertainment
Article by Adam Barnes
"Well, we had just finished work on Warcraft II," remembers Patrick Wyatt. "It was a product that ran late. And immediately afterwards there was a desire to continue the franchise and to find ways to pay for all of the salaries of the people who were still working." Patrick alludes to the vast difference between the industry then and the industry now, suggesting that the numbers of sales was often so much smaller than they are today, and it was tougher to get by...
Year Various
Developer Various
Article by James Davenport
"SpeedTree is a middleware solution for videogame developers and, more recently, filmmakers who need to make realistic trees en masse, quickly. That doesn't mean SpeedTree is as simple as a copy and paste engine, or that it spits out photorealistic trees within perfectly simulated ecosystems. It's easier to think of SpeedTree as more of a specialized tree canvas, a tool used to generate whole forests of trees that look similar but aren't carbon copies of one another..."
Year 2017
Developer No Code
Article by Andy Kelly
"Given our development timeline, I spent way too long listening to and researching numbers stations. I found an online shortwave tuner, and it basically consumed me for a week straight. That became the central interface for episode three. There's a thing that happens when you get engrossed in that system, where you start staring into space, focusing all your sensory attention on picking out the slightest oddity in the noise, and I wanted to replicate that feeling in the game..."
Year 2007
Developer Gas Powered Games
Article by Tom Francis
"I have a saying: strategy happens before the battle, and tactics happen during the battle. I wanted to see if I could give the player the right context for truly employing strategy, like when the Allies were planning Operation Overlord. That was the core of my inspiration for making the game bigger than ever..."
Year 2017
Developer Hinterland
Article by Andy Kelly
Leaving the bustle of the city behind, and the freedom that brings, is an important part of Hinterland's philosophy as a studio. "The mental and emotional process of abandoning urban life, and the relative safety of that job market, mirrors the process of us wanting to create something with an independent spirit outside of the mainstream. Our studio is in a literal and figurative hinterland..."
Year 2015
Developer CD Projekt RED
Article by Phil Savage
"A producer usually says something like: 'And you need how many cards and concepts done?!'" Monnier says. "'Who is going to draw all this?!'" Luckily, Gwent's creators were able to enlist help from others within The Witcher 3's development team. "Anyone who could help played the prototype with us and was on board instantly. We got help from our art crew, and even from the marketing department, who helped with UI design. It really was a massive team effort..."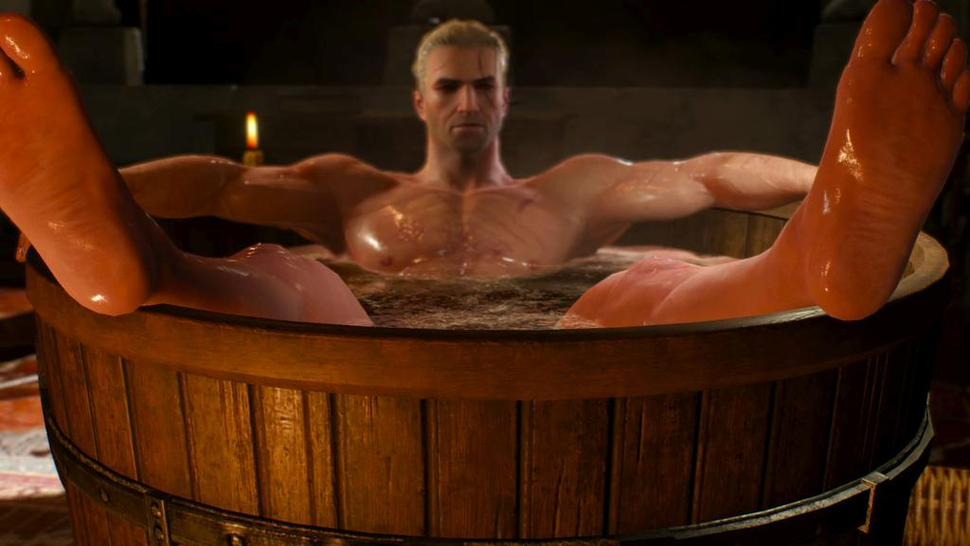 Year 2015
Developer CD Projekt RED
Article by Andy Kelly
"We needed a character that personified Velen, with all of its beauty and troubles," Paweł Sasko tells me. "The Baron is a soldier, much like we have today, who comes back from war with PTSD and alcohol issues. He's unstable and unpleasant, but he also has positive traits. He loves his family and would do anything for them..."
Year 1997
Developer Cavedog Entertainment
Article by Erlingur Einarsson
"We were pushing the boundaries in as many areas as we could, and when we stopped, we just picked that up where we left off with Supreme Commander. As for the challenge of balance, that was handled by Jacob McMahon, who although had never done that kind of work before, did a fabulous job, and spent hours and hours poring over the numbers to balance the game..."
Year Various
Developer Various
Article by Alex Wiltshire
"Game trailers are almost like video tutorials, in a way," Lieu says. One of the first things he thinks about is showing the game's principal unique feature as soon as possible to capture your interest, and then to expand on that feature, progressively showing why it's great..."
Year 2015
Developer Toby Fox
Article by Chris Schilling
The ironic twist is that the first seeds of Undertale were sown from conflict, growing from a battle system Fox had programmed in GameMaker Studio. In fact, his initial inspiration for this early experiment came while he was casually browsing Wikipedia. "One day, I randomly read about arrays, and realised I could program a text system using them," he tells us. "So I decided to make a battle system using that text system, which in turn gave me many ideas for a game. Then I decided to make a demo of that game—to see if people liked it, and if it was humanly possible to create."
Year 2001
Developer Introversion Software
Article by Owen Jones
Even though 3D graphics had been scrapped, Uplink was still vulnerable to feature creep. At one point, Chris had the player organically linked to his computer, cyberpunk-style: "You were totally immobile but you could install security such as cameras and laser trip wires to defend yourself. You had a couple of helper robots under your control, which could run around your room performing maintenance on all your hardware..."
Year 2017
Developer Giant Sparrow
Article by Chris Schilling
"The contrast between the vast, sprawling outdoors and the elaborate interiors of the Finches' house are stark, and yet there's still a hint of something monstrous inside; Edith herself likens it to "a smile with too many teeth". Dallas had three words in mind when designing the house: sublime, intimate and murky. And while he's not convinced the game quite delivered on the last of those three, he's happy that Giant Sparrow struck a balance between the first two."