Starfield companions can be found all over the galaxy. They give your crew unique benefits and make space adventuring a little less lonely. You can only have one companion by your side as you explore the RPG's many, many planets, but that doesn't mean the others are entirely benched. Companions keep the lights on while you deal with other problems, so you'll need to choose how to use them carefully.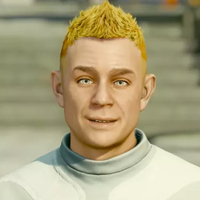 Starfield companions break down into three categories: Constellation companions, unique companions, and no-name companions. The four main Constellation companions are the only ones you can speak to regularly and pursue a romance with. The rest of Starfield's companions exist to help you staff your ship and outpost, and only the unique companions can have side missions connected to them.
Each of Starfield's companions has their own set of skills, which can help you decide what kind of role to assign them. Constellation leader Sarah Morgan, for example, is good at astrodynamics and will let you "grav jump" (faster-than-light travel) further with your ship if she's assigned to it. If you take her with you on foot instead, she'll use her skill in laser weapons to help you in combat.
Starfield's main companions, who are all members of Constellation, can join you early on if you focus on the main story missions. They'll each ask you if they can tag along, and, even if you say no, will always be available to recruit at The Lodge in New Atlantis (Jemison, Alpha Centauri system).
How to recruit Starfield companions
How to recruit Starfield companions
Starfield companions are simple to recruit. All you have to do is find a companion, speak to them, and agree to hire them. You can ask questions about their skills and personal life to get to know them better, and you can often persuade them into a cheaper recruitment cost.

Keep in mind that there are a few companions that require you to finish a certain mission to unlock them, which I've noted below. And some unique companions seem to show up on their own schedules. If you don't see one of the unique companions below, try waiting until the afternoon.

Once a companion agrees to join, you will be automatically taken to the crew menu to assign them to your ship or outposts. You can change their position at any time from there, too.
Where to find Constellation Starfield companions
Where to find every Constellation Starfield companion
Sarah Morgan
Astrodynamics: ⭐⭐⭐⭐
Lasers: ⭐⭐⭐
Leadership: ⭐⭐
Botany: ⭐
Mission: The Old Neighborhood
Sarah Morgan is the voice found in many of Starfield's trailers and a character you meet very early in the story. She is the chair of Constellation, the group of explorers who spearhead much of the RPG's plot. This ex-soldier is adept in combat and long-distance space travel. As long as you don't break any laws, she'll be happy to work with you.
Barrett
Starship engineering: ⭐⭐⭐⭐
Particle Beam Weapon Systems: ⭐⭐⭐
Robotics: ⭐⭐
Gastronomy: ⭐
Mission: Back to Vectera
Barrett seems to have lost any fear of the unknown a while before you come along. He's the bravest member of Constellation and quite slippery to track down once he's set his mind on something. His ship repair skills are clutch in space battles and he's no slouch in combat either. His drive to uncover the mystery at the core of the plot can be dangerous, but he'll like you as long as you take him at his word.
Sam Coe
Piloting: ⭐⭐⭐⭐
Rifle Certification: ⭐⭐⭐
Payloads: ⭐⭐
Geology: ⭐
Mission: The Empty Nest
Sam Coe is surprisingly old-school for a man who lives in a sci-fi future. He was a member of the Freestar Rangers, a peacekeeping force that operates in Starfield's independent systems, and is trying to escape his father's shadow. Sam, and his daughter Cora, are nice to have around on your journey as long as you avoid aligning yourself with the United Colonies, the pervading government in Starfield.
Andreja
Stealth: ⭐⭐⭐⭐
Particle Beams: ⭐⭐⭐
Energy Weapon Systems: ⭐⭐
Theft: ⭐
Mission: Into the Unknown
Andreja is a big question mark. She's the most independent member of Constellation and refuses to explain why. Her skills tell a story though: She's exceptional at stealth and combat, and dabbles in a little thievery. The trust between you and her is thin, however, so don't say or do anything to break it.
Where to find every unique Starfield companion
Starfield's non-Constellation companions are all over the place. They can be found in the main cities, usually in bars, and within certain missions. The companions with unique names, like Mickey Caviar, seem to hang out on a schedule in one location. When you find them, you can get to know them and decide whether you want to drop the credits to hire them.
You'll find other companions who don't have unique names, but have titles like "Outpost Engineering Specialist'' and "Laser Weapons Specialist" instead. These companions seem to show up randomly and come with random skills, so we can't tell you where to find specific ones. If we learn of a way to do that, we'll update the guide accordingly.
Here are the unique companions we've found so far, their locations, the cost to hire them, and their skills:
Main mission Starfield companions
Lin
Mission: Back to Vectera

Skills:
Demolitions: ⭐
Outpost Management: ⭐⭐⭐
Vasco
Mission: One Small Step
Skills:
Aneutronic Fusion: ⭐
Shield Systems: ⭐
EM Weapon Systems: ⭐
Heller
Mission: Back to Vectera

Skills:
Geology: ⭐
Outpost Engineering: ⭐⭐⭐
New Atlantis Starfield companions
Marika Boros
Location: The Viewport, New Atlantis
Credits: 13,500

Skills:
Shotgun Certification: ⭐
Ballistics: ⭐⭐
Particle Beam Weapon Systems: ⭐
Gideon Aker
Location: The Viewport, New Atlantis
Credits: 18,000

Skills:
Ballistic Weapon Systems: ⭐⭐
Missile Weapon Systems: ⭐⭐
Simeon Bankowski
Location: The Viewport, New Atlantis
Credits: 15,000

Skills:
Sharpshooting: ⭐
Sniper Certification: ⭐⭐
Marksmanship: ⭐
Rafael Aguerro
Requires: Save him on the Entangled mission
Location: The Viewport, New Atlantis

Skills:
Outpost Engineering:⭐
Starpost Engineering:⭐⭐
Outpost Management: ⭐
Akila Starfield companions
Rosie Tannehill
Location: The Hitching Post, Akila
Credits: 18,000

Skills:
Medicine: ⭐
Wellness: ⭐⭐⭐
Omari Hassan
Location: The Hitching Post, Akila
Credits: 13,500
Skills:
Shield Systems: ⭐⭐⭐
Starship Engineering: ⭐
Ezekiel
Location: Aggie's Bar, Akila
Credits: Free

Skills:
Scavenging: ⭐
Energy Weapon Dissipation: ⭐⭐
Shield Systems: ⭐
Lyle Brewer
Location: Aggie's Bar, Akila
Credits: 12,000
Skills:
Particle Beams: ⭐
Xenosociology: ⭐
Shotgun Certification: ⭐⭐
Neon Starfield companions
Mickey Caviar
Location: Astral Lounge, Neon
Credits: 13,500

Skills:
Gastronomy: ⭐
Wellness: ⭐⭐
Incapacitation: ⭐
Dani Garcia
Location: Euphorika, Neon
Credits: 12,000

Skills:
Chemistry: ⭐
Robotics: ⭐⭐
Energy Weapon Systems: ⭐
Cydonia Starfield companions
Moara Otero
Requires: Finish The Old Neighborhood mission
Location: Broken Spear, Cydonia
Credits: Free

Skills:
EM Weapon Systems: ⭐⭐
Marksmanship: ⭐⭐
Andromeda Kepler
Location: Broken Spear, Cydonia
Credits: 15,000

Skills:
Outpost Engineering: ⭐⭐
Piloting: ⭐
Aneutronic Fusion: ⭐
Other unique Starfield companions
Adoring Fan
Requires: Hero Worshipped trait

Skills:
Weight lifting:⭐⭐
Concealment:⭐
Scavenging: ⭐