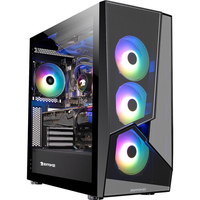 iBUYPOWER Slate 5 MR 310a | Ryzen 7 7700X | RTX 4080 | 32GB DDR5-5200 | 1TB SSD | 2TB HDD | 800W PSU | $2599.99 $2249.00 at B&H Photo (save $350.99)
With Alan Wake 2 nearer release and promising some of the most spectacular visuals seen in gaming, what better time to get yourself a new gaming PC that easily meets all of the game's hardware requirements. The Ryzen 7 7700X is a great all-round CPU and that RTX 4080 is ridiculously powerful. The amount of RAM is decent, though it is a little on the slow side. Alan Wake 2 also needs to be installed on a SSD, so you could always swap out the HDD for a cheap, large capacity solid state drive.
Alan Wake 2 is shaping up to be Remedy Entertainment's next masterpiece, with the survival horror game showcasing the latest graphics technology. Naturally, the hardware requirements are pretty demanding so if you'll to get yourself a new gaming PC that meets every one of them, then this is the perfect deal for you.
Starting with the CPU, the Ryzen 7 7700X is seriously powerful and shines in games. With 8 cores and a boost clock of 5.1GHz, it will handle lots of productivity and content creation tasks too.
AMD's processors need dual channel RAM to get the best from them and this PC is using two 16GB sticks of DDR5-5200. That's not the fastest memory you can get for the 7700X but the 32GB total is plenty enough for today's games.
The most powerful component in this PC is the GeForce RTX 4080 graphics card, which is currently Nvidia's second most capable GPU in its Ada Lovelace range. It fully supports DLSS 3.5 and FSR 3, so any game that using upscaling or frame generation will be covered.
Gaming storage needs are well served by the 1TB PCIe 4.0 NVMe SSD but I wouldn't bother with using the 2TB HDD for anything other than saving pictures or small movie files. Personally, I would swap it for a cheap, large capacity SSD and keep all of my games on that drive.
It's a shame that the Slate 5 only comes with an 800W power supply unit. It's enough for this combination of CPU and GPU, but if you want to upgrade the components at some point in the future, you may need to swap the PSU for one with a higher power output.
That will depend on whether the new parts use more power than the Ryzen 7 7700X and RTX 4080.
The final cherry on this PC cake is that this deal is also valid for a free promotional copy of Alan Wake 2, so not only should have no worries whatsoever running the game on this PC, but you won't have to go out and buy the game either!