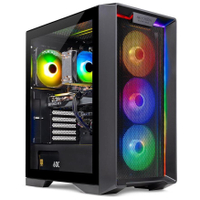 Skytech Nebula | Intel Core i5 12400F | Nvidia RTX 4060 Ti | 16GB DDR4-3200 | 500GB SSD | $1,299.99 $999.99 at Newegg (save $300)
At this point, who will buy a full-price Skytech gaming PC when they're guaranteed to be among the most discounted systems in any sale? I'm not complaining when you can now bag a full RTX 4060 Ti gaming PC for under $1,000. It's sporting a last-gen Intel Alder Lake chip, but it's still a six-core, 12-thread CPU of excellent gaming pedigree. The 500GB SSD feels a bit miserly in 2023, but that is one of the cheapest and easiest upgrades you can make when you need a little more space.
If you're shopping around for a budget gaming PC this Amazon Prime Day, Newegg actually has the best deal right now on a gaming PC with an RTX 4060 Ti. It's on sale for only $999—that's $300 off its normal price and the cheapest RTX 4060 Ti-powered system we've seen so far that we'd recommend.
The Skytech Nebula gaming PC features an Intel Core i5 12400F, 16GB DDR4 RAM, 500GB NVMe SSD, and an Nvidia RTX 4060 Ti GPU. It's an excellent choice if you're aiming for high-quality 1080p gameplay or if you're seeking an affordable system that meets the requirements to play Baldur's Gate 3, the game where you can have intimate interactions with a bear, which will be released soon.
The Intel Core i5 12400F is an impressive budget CPU from the previous generation, Alder Lake. It offers exceptional value for your money: Our testing has shown that it's a cool and power-efficient chip, often outperforming the AMD Ryzen 5 5600X in gaming performance.
The RTX 4060 Ti is a solid mid-range GPU that punches above its weight class thanks to DLSS 3 and Frame Generation features. These technologies significantly boost frame rates for supported games like Cyberpunk 2077.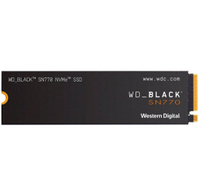 WD Black SN770 | 500GB | NVMe | PCIe 4.0 | 5,150MB/s read | 4,900MB/s write | $69.99 $29.99 at Best Buy (save $40)
This PCIe Gen 4 drive is a great buy for $40, the cheapest I can recall ever being. It may not be as speedy as some of the top SSDs today, but you could do much worse for a simple boot drive upgrade. It can get a little warm, but with the cash you're saving, you can always grab a heatsink to help. Otherwise, any good motherboard or case cooling suits the job well.

Price check: Western Digital $30 | Walmart $41
The first thing we recommend upgrading in this system is the storage. You will need more than the 500GB SSD for your gaming needs: Although it is a speedy NVMe SSD, we suggest upgrading to at least 1TB. Rest assured, there will be plenty of SSDs on sale this week for Prime Day, particularly at larger capacities like 2TB and 4TB. We found a WB Black 1TB NVMe SSD for just $60, a great place to start.
Keep an eye on the best Amazon Prime Day PC gaming deals throughout Prime Day to find other RTX 40-series systems getting significant price cuts or if you need other PC gaming goodies on the cheap.