Lenovo is currently running a sale of their tiny powerhouse gaming PC, the Legion C730 Mini Gaming Cube.
There's a handful of models on sale (opens in new tab) that you can choose from. Of what's available, we really the dig first one on the list (Part Number: 90JH005VUS) for $1,499.00 and the fourth (Part Number: 90JH005WUS) $1,599.99.
Both come with 32GB DDR4 memory and more notably, an RTX 2070 8GB graphics card. The former has better storage with a 1TB SSD while the latter has a better CPU with an Intel i9-9900K Processor.
The sale slashes away more than $600 on both models. Not a bad price if you're looking for a powerful desktop gaming PC that actually won't take up a lot of space on your desktop.
The only major complaint is this model of the C730 Cube has no USB-C ports, but it does have 2 USB 2.0, 4 USB 3.1, and 2 USB 3.0 ports to make up for it.
Regardless of what model you go with make sure you use the coupon code TSM10 at check out the apply the discount.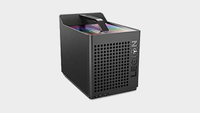 (opens in new tab)