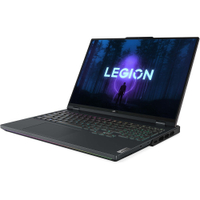 Lenovo Legion Pro 7i | Nvidia RTX 4080 | Intel Core i9 13900HX | 16-inch | 1600p | 240Hz | 32GB DDR5-5600 | 1TB NVMe SSD | $2,749.99 $2,299 at B&H Photo (save $450.99)
This is a surprise: a discount on the best RTX 4080 laptop I've tested. It's a fantastic notebook, offering performance that can often match and sometimes beat an RTX 4090-based system. There's a high-performance CPU to back it up, a decent, bright 1600p screen, and a fair amount of storage. All with a discount. Neat.
We're big fans of the Lenovo Legion Pro over here at PC Gamer. This one packs an RTX 4080 is just another nod to the notion that there's absolutely no point in an RTX 4090-powered gaming laptop when an RTX 4080 model can smash games with almost the same veracity.
Right now, you can get the spicy Lenovo Legion Pro 7i for $2,299 at B&H Photo, and we're fully backing your decision to purchase. That's $450.99 off the listing price so it's well worth it.
If you're questioning exactly how much we love the Legion Pro 7i, consider this is the laptop that actually made our Dave reconsider his affection for his first love, the Razer Blade.
This little 16-incher is one of the most powerful machines we've ever tested. Together, that smashing RTX 4080 and Intel i9 13900HX combo often surpass the $4,000 Asus ROG Zephyrus M16 in our benchmarks.
Top that core spec with a bright 16:10 ratio 1600p, 240Hz IPS panel and it really makes games look fantastic. Oh, and you're not just getting a gaming machine here. With a tasty 32GB lick of DDR5 SK Hynix RAM and a 1TB NVMe Samsung SSD, this system can easily become your next workstation should you need a gaming laptop that can do it all.
Of course, as with any beastly piece of tech, there are going to be caveats. For the Legion Pro, its battery life. It's an issue when it comes to most high-powered gaming laptops, and they tend to last longer when you're not gaming... but that's the main reason you're thinking of getting one, right?
Either way, there's not much else to complain about.