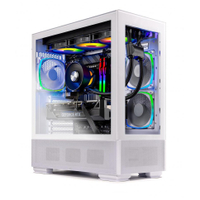 Skytech Azure Gaming | Intel Core i5 13600K | Nvidia RTX 4070 Ti | 1TB SSD | 32GB DDR5 RAM | $2,049.99 $1,799.99 at Newegg (save $250)
An RTX 4070 Ti-powered gaming desktop for less than $2,000 is fantastic. This Skytech Azure should give you excellent performance at 1080p on max settings; however, if you want to hit that PC gaming sweet spot at 1440p, this machine can do it. We like that Skytech promises "no bloatware" clogging up your performance.

In our daily hunt for the best cheap PC gaming deals, one that caught my eye was this Skytech Azure for $1,799 at Newegg, $250 off its usual price. It's a nicely specced gaming PC with an RTX 4070 Ti. And yes, despite being called Skytech Azure, it comes in white and looks pretty neat.
Digging into the internals, the Skytech Azure packs an Intel Core i5 13600K CPU with an RTX 4070 Ti GPU and a generous 32 GB of DDR5 RAM. This dynamic duo promises impressive, sturdy gaming performance at 1080p and 1440p resolutions.
The RTX 4070 Ti proves to be a versatile GPU, delivering performance on par with the RTX 3090. It comes with the added benefits of superior cooling, efficiency, and value. On the flip side, the Core i5 13600K, while an older midrange CPU from Intel, holds its own. It even gives a run for its money to the performance of a previous-generation Core i9, although it does come at the expense of relatively higher power consumption.
The 1TB SSD NVMe storage is a good starting storage. But here's the tip: keep an eye out for extra SSD deals, especially if you tackle giant games like Baldur's Gate 3 and the super-hyped Starfield.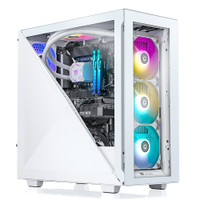 Thermaltake Avalanche i477T | Intel Core i7-13700KF | NVIDIA GeForce RTX 4070 Ti | 2TB NVMe SSD | 16GB RAM | $2,299.99 $2,099.99 at Best Buy (save $200)
If you're looking for an RTX 4070 Ti system with a little more happening under the hood for a reasonable amount of cash, this Thermaltake PC is it. It features 32GB of DDR5 RAM, 2TB SSD, and a solid CPU making this an option for gamers who actually need to do some work on their PC.

It's also refreshing to see a 360mm AIO cooler, a departure from the lackluster cooling solutions often encountered in similar prebuilt systems. Including an 850W Gold-rated PSU is a welcome addition, countering the trend in some prebuilt setups where cheap power supplies are used to cut down costs.
As I mentioned, the CPU's somewhat advanced age is the only drawback. However, if you're willing to part with an extra $200, you can snag a Thermaltake PC with double the storage capacity and a more robust CPU. Specifications for the PSU and RAM speeds of the Thermaltake system are conspicuously absent, so keep that in mind.