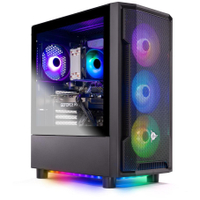 Skytech Shadow | Ryzen 5 5600X | RTX 4060 Ti | 16GB DDR4 RAM | 1TB NVMe SSD | $1,167.99 $1,079.99 at Newegg
Another cheap PC from Skytech that's technically not on sale. The company is keeping the cost down with an affordable, yet still great-for-gaming, Ryzen 5 5600X processor. Paired with the RTX 4060 Ti you shouldn't have trouble at 1080p or 1440p. And for that price I've no complaints, even on the side of supporting components.
While I love to build a gaming PC, there are a couple of reasons you might choose to buy a pre-built one. If you've not got the time to do it yourself, or you're buying for someone else, you can save yourself the hassle with a ready-made machine. That's who I'm thinking this gaming PC deal is for: a $1,079.99 Skytech PC with an RTX 4060 Ti inside is a damn decent price, especially considering someone's going to put it together for you.
First off, the RTX 4060 Ti. This isn't everyone's favorite graphics card, nor is it ours, but for the right price I can be swayed by its DLSS 3 capabilities and gaming performance versus the RTX 3060 Ti of the previous generation.
In his RTX 4060 Ti review, Dave says of the card "It's been designed to beat an RTX 3060 Ti by as tight a performance margin as possible—and you honestly can't argue with the business reasons for doing so—but without DLSS 3 and Frame Generation it certainly doesn't feel like a particularly exciting generational upgrade over the old Ampere card."
Alright so that's not super convincing, but just under $1,200 isn't bad. Especially compared to some of the RTX 3060 gaming PC prices we were seeing during that card's peak.
It's going to be important to get a baseline for an acceptable price for an RTX 4060 Ti gaming PC, we'll definitely be seeing a lot of them over the next 12 months.
The rest of this build isn't so divisive, promise. The AMD Ryzen 5600X is a solid choice with six cores of AMD's Zen 3 architecture to play with. It's a good pick for this sort of performance tier. You could fit a chunkier CPU for better performance in creative applications like Adobe Premiere Pro, and there is an option with an Intel Core i7 12700F for a little more, but it's not a necessary upgrade by any means.
As for the rest of the build, it's good to see 16GB of RAM here. That capacity really is becoming crucial to gaming performance nowadays. There's also a capacious 1TB SSD, so there's actual space for a couple modern games too. With Starfield expected to gobble up 125GB of SSD space, looks like you'll need it.