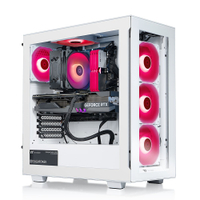 Thermaltake View i467T R4 | Intel Core i7 12700F | Nvidia RTX 4070 Ti | 1TB SSD | 32GB DDR5 RAM | $1,599.99 at Best Buy
Thermaltake has been knocking it out of the park with some desktop deals recently, and this RTX 4070 Ti system is no exception. Yeah, it's got a last-gen CPU, but it still has enough horsepower to play most of your games with all the bells and whistles turned on.

In my daily scan for the best cheap PC gaming deals, one system that made me double-take was this Thermaltake (hah) View i467T R4 for $1,600 at Best Buy. Yeah, it's only a $50 discount from its regular price, but I'd argue that an RTX 4070 Ti system with a 12th Gen Intel CPU for $1650 was already a great price, to begin with.
Inside this Thermaltake PC is an Intel Core i7-12700F CPU with an RTX 4070 Ti GPU and 32 GB of DDR5 RAM. This spec should give you worry-free gaming performance at 1080p and 1440p resolutions.
The RTX 4070 Ti is a great GPU that's on par with the RTX 3090 but offers better cooler and power efficiency. On the flip side, the Core i7-12700F, while an older last-gen CPU from Intel, should be able to give you some solid all-around performance.
The 1TB SSD NVMe storage is okay but not great. Look for extra SSD deals, especially if you plan to install giant games like Cyberpunk 2077 and Starfield anytime soon.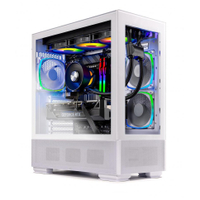 Skytech Azure Gaming | Intel Core i5 13600K | Nvidia RTX 4070 Ti | 1TB SSD | 32GB DDR5 RAM | $2,199.99 $1,799.99 at Newegg (save $250)
An RTX 4070 Ti-powered gaming desktop for less than $2,000 is fantastic. This Skytech Azure should give you excellent performance at 1080p on max settings; however, if you want to hit that PC gaming sweet spot at 1440p, this machine can do it. We like that Skytech promises "no bloatware" clogging up your performance.

Another knock against the system is that specifications for the PSU and RAM speeds of the Thermaltake system are conspicuously absent, which is a pretty common occurrence with some of these deals. So, buyer beware.

As I mentioned, the CPU's a bit long in the tooth, especially with Intel's next-generation CPUs coming right around the corner. However, if you need a little more horsepower (or this thing sold out fast as these deals tend to do), I did spot this Skytech Azure Gaming PC with a 13th Gen Core i5 13600K, which is hands down one of the best gaming CPUs out there and has slightly better cooling options for only $200 more.