Inspired to visit the best Minecraft builds out there? Sometimes you need a break to set down your blocky tools and stroll through one of the masterworks that others have created. Or maybe it's that your own muse is a no show, and you need to borrow a cup of inspiration? Whether you're a venerated Minecraft auteur, or just a blue collar cube craftsperson whose Minecraft houses look more like elementary school dioramas, spending time as a spectator of builds that belong in the Minecraft museum of modern art is sure to tease your own creativity back out of hiding.
Best of Minecraft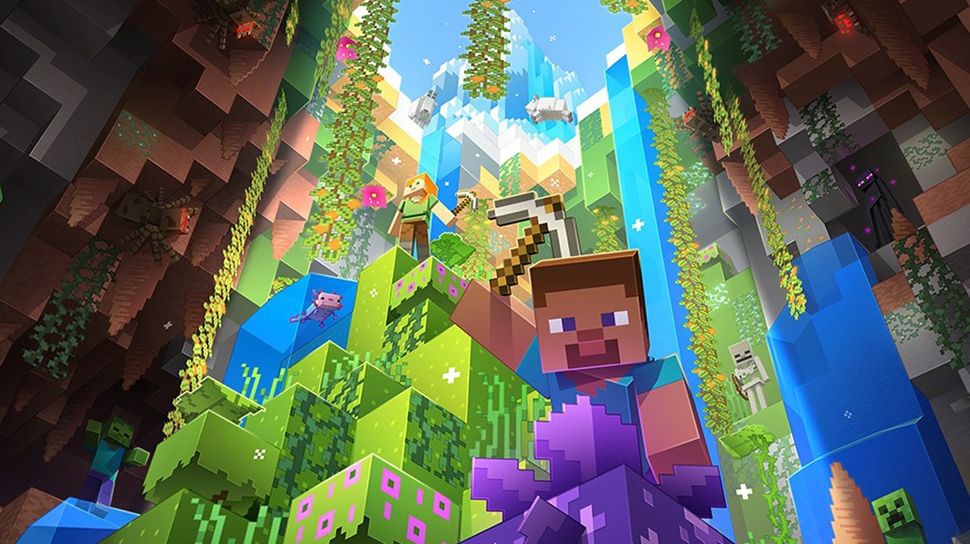 Minecraft update: What's new?
Minecraft skins: New looks
Minecraft mods: Beyond vanilla
Minecraft shaders: Spotlight
Minecraft seeds: Fresh new worlds
Minecraft texture packs: Pixelated
Minecraft servers: Online worlds
Minecraft commands: All cheats
But no matter if you're a crusty cube crafter or just recklessly stacking alphabet blocks, the Minecraft world has countless masterpieces to appreciate. With this Minecraft builds guide, we've assembled a veritable theme park to stroll through and take in some awe-inspiring builds, and a few bonuses thrown in just for kicks.
With Minecraft 1.20 coming, all kinds of new options will come with it—from fun new blocks like bamboo and the new archaeology system to all new pals like the camel and sniffer—it's the perfect time to start getting inspired. With our list of builds, you can start visually imagining the latest additions to the Minecraft block palette and how they'd improve things, so take a look below for your latest spate of ideas.
Minecraft builds for cities
City of Mondstadt
For those who enjoy both Genshin Impact and Minecraft, SkyBlock Squad's recreation of the city of Mondstadt from the game's first region is a real treat. Though slightly larger in scale than the original, this rendition of the city of wind is beautifully detailed, and even has fleshed out interiors for many of the buildings. The Cathedral of Favonius, in-particular, feels epic.
Frogtown
Want to live in a town watched over by a beloved frog lord? Pleinair1212's Minecraft build, Frogtown, makes the dream come true with a gigantic, detailed frog statue standing as the centrepiece to a whole village. You can see more pictures of Frogtown over on reddit, but also other massive statuesque animal builds like the Racoon Village and this giant snake.
Aman, The Immortal Lands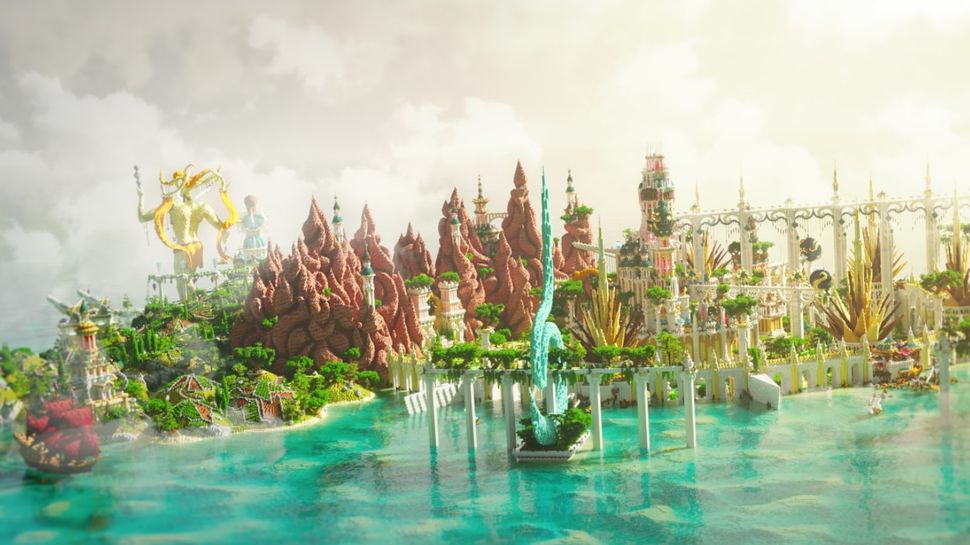 The Aman, The Immortal Lands build stuck out as one of the best Minecraft builds because it's such a unique take on what a 'fantasy city' looks like. The architecture has a fluid roundness to it, which is worlds away from the square rigidness you see in other builds. It took Iskillia one and a half years to build the whole construction and it really shows in the detail.
Adamantis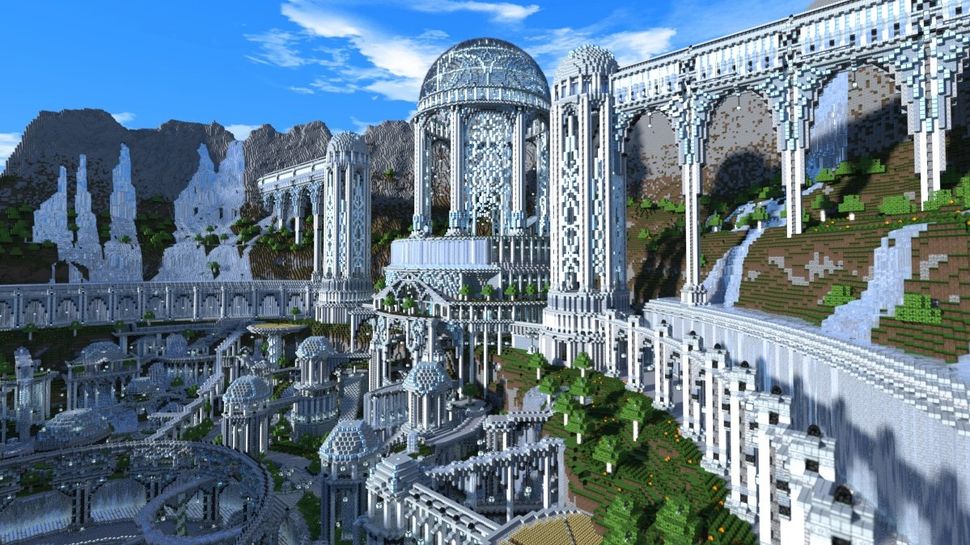 Many of the Minecraft builds on this list have been created by huge teams of people, but the detailed fantasy city Adamantis was created by one builder, jamdelaney1, and took just three months work. This sprawling city is chock-a-block with natural springs, aqueducts, walkways, bridges, and an open temple that looks over a cliff—very impressive work.
Greenfield
Someone should give this team official planning permission because Greenfield is one heck of a well-structured city. Greenfield is designed on a 1:1 scale and features thousands of unique buildings with fully kitted out interiors. The download page description says that the team are only 20% done with their overall vision, which is ridiculously ambitious seeing as Greenfield is already one of the biggest Minecraft cities to date.
Cyberpunk City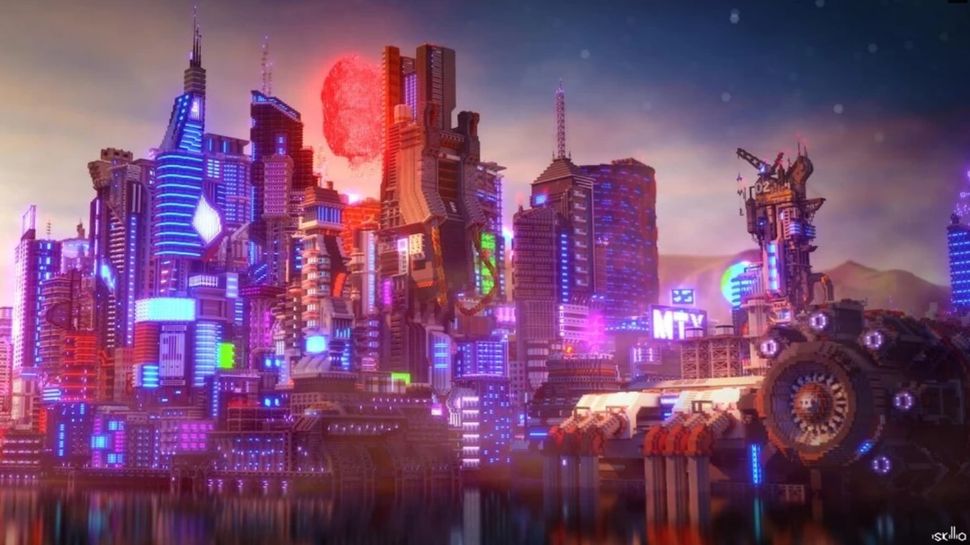 ElysiumFire is back on this list with their take on a Cyberpunk city, with inspirations taken from Cyberpunk 2077's very own Night City. This build checks every box for a futuristic city. There are mega skyscrapers, eye-melting neon signs, a giant virtual phoenix—it's got the lot. However, before you download it beware! ElysiumFire notes that this build is extremely heavy and may crash your game or even might break your PC. Looks like a glimpse into the future has its price.
Video Game builds
Breath of the Wild
This amazing ongoing project by Grazzy is recreating all of the fantastic Breath of the Wild map, down to every single shrine and Bokoblin camp. So far, his team has gotten most of the southeastern part of the map detailed and every step of his progress has been stunning to observe. The amount of work and detail put into each variation of tree makes me want to become a Minecraft arborist myself.
Crafting Azeroth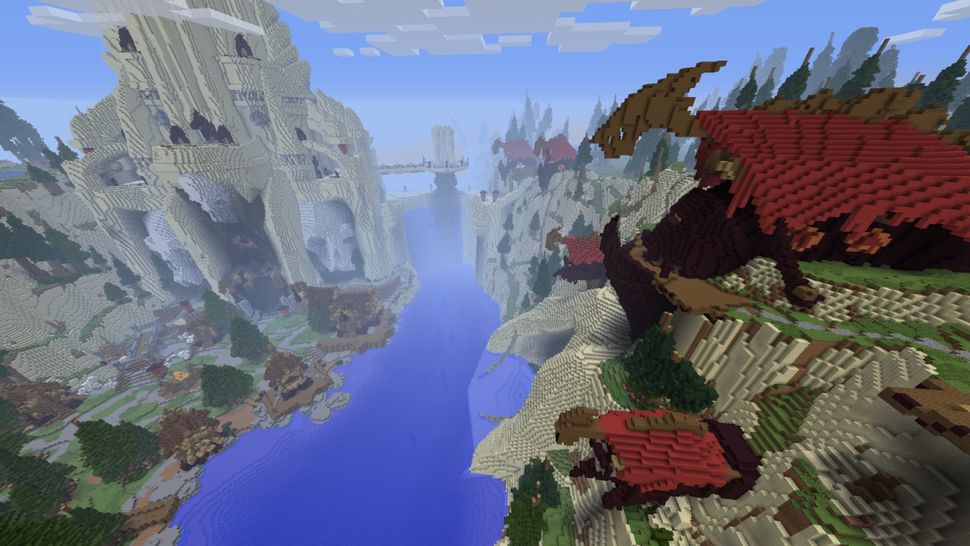 Ever thought it would be fun to play Minecraft and Warcraft together? Crafting Azeroth is a full-scale replica of the World of Warcraft's setting, including the two continents of Kalimdor and the Eastern Kingdoms as well as the newer contintents of Outland and Northrend. The map was created through heavily automated processes and custom software developer by its creator.
Herobrine's Mansion
Taking inspiration from the creepypasta that features Notch's fake brother, Herobrine's Mansion is a monster-filled adventure complete with bosses, secret rooms, and even Herobrine himself lurking somewhere within. An impressive mansion build that is best explored with friends.
Novigrad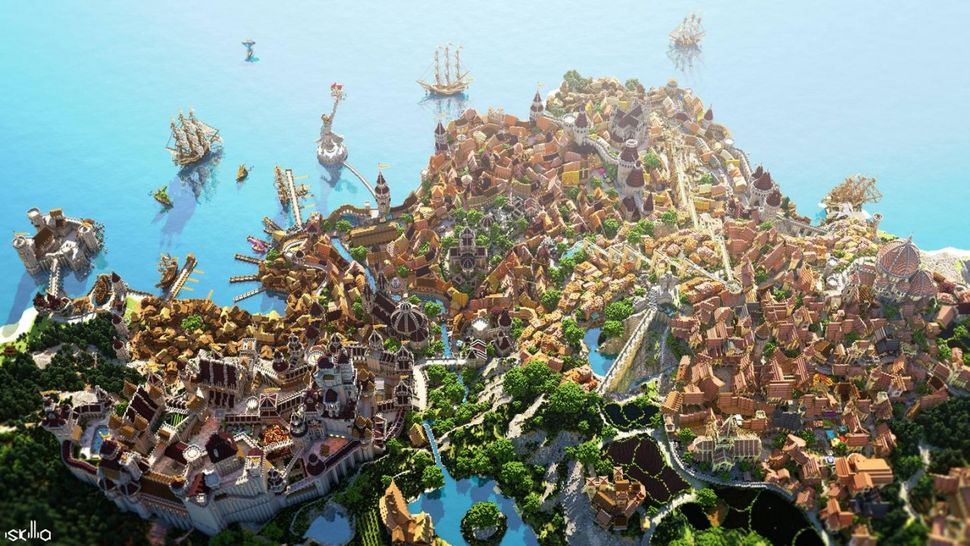 I wasn't sure which screenshot of this build to choose because Novigrad looks stunning from every angle. As a heads up, this isn't the city from The Witcher 3, but ElysiumFire's own fantasy city—but maybe CD Projekt Red should ask the team for some help when they next return to the series.
Misc builds
Starry Night
This 3D recreation of Van Gogh's post-impressionist masterpiece is nothing short of incredible. In the short short video of ChrisDaCow's build over on Reddit, it's immediately clear how much the painstaking effort was devoted to rendering the painting's textured brushstrokes into sweeping Minecraft block-forms. And when the video shows shots of how the build looks when illuminated by its light-casting blocks, I was desperately hungry to download and step foot into the build myself. In a comment on the YouTube video about the build, the creator says he hopes to release the world file eventually. Here's hoping.
WesterosCraft
WesterosCraft was one of the first Minecraft builds I ever downloaded, and it blew my mind. A colossal undertaking, recreating Westeros from Game of Thrones, it currently has over 300 cities and is still growing to this day. It's a stunning build, and I've linked the team's cinematic tour of King's Landing above to convince you to check it out. If you really like it, you'll also find it on our list of the best Minecraft servers, so you can actually help create more of it yourself.
A Tribute to H.R. Giger
If you're after a darker, more ominous place to explore, check out Everbloom Games' A Tribute to H.R. Giger, a Minecraft build that recreates the dark, biomechanical art of H.R. Giger. There are exoskeleton horrors embedded in the walls, and a giant industrial human face looms down from the top of the structure, making it the perfect break from the tropical islands and fantasy cities featured in the rest of this Minecraft builds list.
The Uncensored Library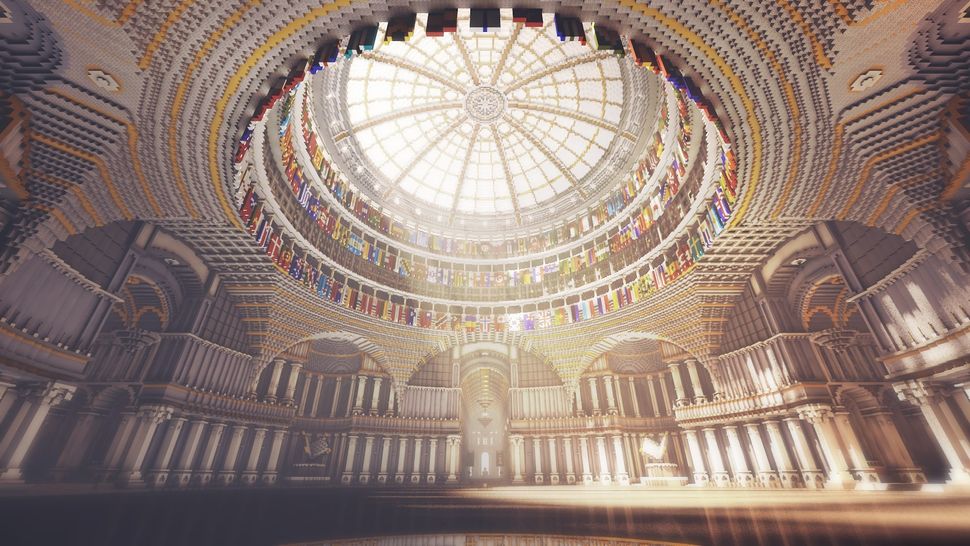 Not only is The Uncensored Library a stunning Minecraft build, but it also acts as a genuine library inside Minecraft as a clever loophole and safe haven for censored journalism. The virtual library acts as a space for countries where certain press freedoms don't exist or where selective censorship denies access to certain articles. The Uncensored Library is a perfect example of how Minecraft can be used as a force for good.
Middle-earth
J.R.R. Tolkien's fantasy world has been transformed into Minecraft's blocky realm. Middle-earth is one of the longest-running Minecraft building communities launching back in 2010, and the team has recreated some of the fantasy world's most iconic landscapes and cities. To see just how big this build is, check out the Middle-earth map on its official website.
Eldaria Islands
Eldaria Island was uploaded by Aurelien_Sama nine years ago and it's still one of the best Minecraft builds to date. This island is a bundle of different biomes complete with volcanoes, rainforests, waterfalls, caves, dungeons, and so much more. Instead of getting lost in a sprawling city, you can get lost in nature instead.
Meiva - Dance of the Elements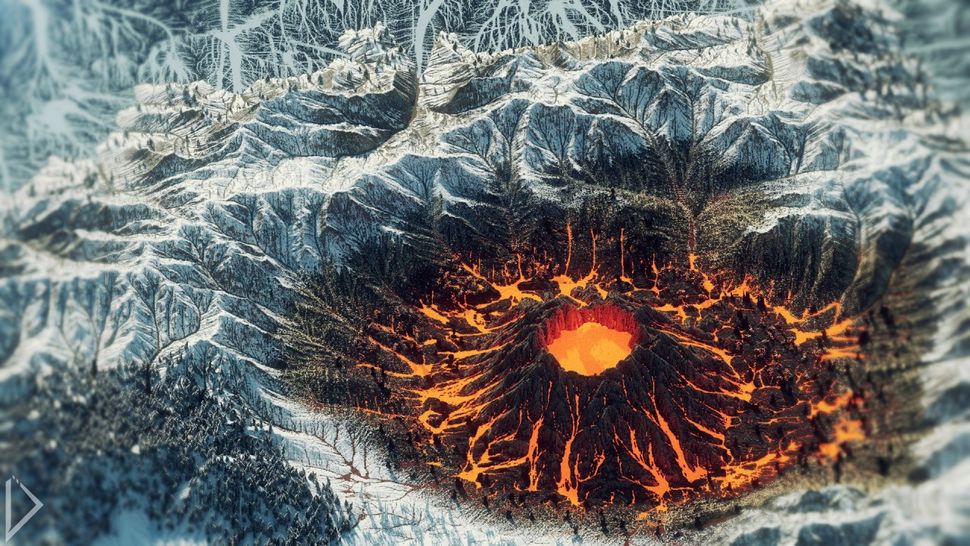 There are some Minecraft screenshots that look so photorealistic it's uncanny, and Meiva - Dance of the Elements is one of those builds. The centrepieces for this build are it's two giant volcanos, and the download page has a detailed description of the lore behind the Meiva archipelago that you can delve into if you want to learn more.
Ancient Archer
Statue-making has always been popular in Minecraft, but since the introduction of copper in 1.17, creators have been building all sorts. This timelapse ancient archer build by locvox is a great example of what you can accomplish, and the vegetation hanging off it is a wonderful detail. Some other great statue builds include this Colossus of Rhodes-esque build and this humble dirt house