Amazon decided to stick a sale event in the summer with its Prime Day deals, which start this week on Tuesday, so naturally its competitors have followed suit. They can't call their competing events "Prime Day," of course, which is how we now have Target Circle Week and Best Buy Black Friday in July. Look what you've started, Bezos!
I'm just going to call all these sales "Prime Day," even though that's Amazon's thing. It's easier that way. So, as I was saying, Target Prime Day and Best Buy Prime Day have started, and already have some PC gaming deals to offer before Amazon's official Prime Day kickoff.
That includes some gaming laptops, a few of which we've already noted in our hub of the best Amazon Prime Day PC gaming deals.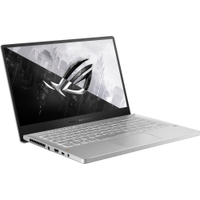 Asus ROG Zephyrus 14 | Nvidia RTX 3060 | AMD Ryzen 7 5800HS | 14-inch | 1080p | 144Hz | 16GB RAM | 512GB SSD | $1,399.99 $799.99 at Best Buy (save $600)
If you don't want a hulking gaming laptop, let me introduce the Zephyrus 14 (see our review): a 14-incher that can game without busting your bank balance or your shoulder when lugging it around. No-nonsense specs in a delightful package. While a bit older now versus the RTX 40-series GPUs, this is a very smart package for a low fee.

Price check: Amazon $1,039.99 | Newegg $1,019.99
MSI Cyborg | Nvidia RTX 4050 | Intel Core i5 12450H | 15.6-inch | 1080p | 144Hz | 8GB DDR4 | 512GB SSD | $699.99 at Best Buy (save $300)
This might be one of the first RTX 40-series gaming laptops for under $1,000 we've seen so far. The MSI Cyborg is a nice little budget 1080p gaming laptop that should get a decent fps boost thanks to the magic of Nvidia's DLSS Frame Generation tech. It outperforms anything more expensive systems with an RTX 3050 GPU pretty soundly. But we don't love the 8GB of RAM.
Price check: Newegg $899.99
Best Buy also has deals on PC gaming components and peripherals, matching one of Amazon's Prime Day deals on a 4TB Crucial PCIe Gen4 SSD for $176.99, for instance. You can browse the retailer's PC gaming deals section here.
Newegg, B&H, Walmart , Razer, Microsoft, Dell and others will also have Prime Day—or, well, whatever they call it—deals this week, and we'll be putting the best deals we find from any and all of them in our hubs, plus deals from Amazon itself, of course.