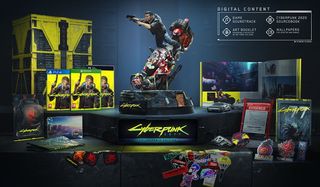 Yesterday, amidst the flood of Cyberpunk 2077 information revealed at E3, CD Projekt served up our first look at the collector's edition of the game. If you've seen The Witcher CE boxes, you won't be at all surprised to hear that it's a pretty spectacular unit, with a huge box, a swanky figurine, an art book, the Visitors Guide to Night City, and all sorts of other stuff.
Look at this thing:
There was only one problem: For reasons unknown, it wasn't being released in North America. "In the US PC version of the game is only available digitally," CD Projekt Red global community lead Marcin Momot said on Twitter. Clarifying, he added, "Unfortunately, the game is only available digitally for PC in the States. No physical release."
To answer questions about the availability of PC version of #Cyberpunk2077 in the US. PC will only be available digitally. All other countries where boxed PC game is being sold will have a downloadable code inside (both SE and CE). Hope this clears things up!June 10, 2019
It may surprise you to hear that in spite of the ubiquity of digital sales on PC, there is still a contingent of die-hards that prefers their games in boxes—the bigger, the better. Their numbers are small, but they're not shy about making their feelings known, and apparently they were able to fully convey the depth of their dissatisfaction to CD Projekt, because the CE is now slated for North America, too.
Good news for our US community - @Marcin360 kept telling us how much you all want #Cyberpunk2077 PC editions (Standard and CE!) available physically in stores. It'll happen - we'll share more details in the future! pic.twitter.com/65kGrMOzsGJune 10, 2019
The situation isn't quite perfect, as the change is currently only confirmed for the US—CD Projekt is still "checking" the situation in Canada. But generally speaking, any game available in the US is easily had up north, too, so I'm pretty optimistic. (Yes, I'm in Canada, and yes, I want one.)
The response from collectors? Predictable, but still perfect. I expect this image is going to get some real mileage over the next year or two.