The Cyber Monday gaming PC deals are today out in force, with fresh offers on a host of different systems, at different price points, with very different hardware. There are even some new Nvidia RTX 30-series systems on offer, shipping before Christmas too. And many holdover deals from Black Friday remain, too, so you're spoiled for choice. 
The Best Cyber Monday Gaming PC deals
Jump straight to the deals you want...
1. RTX 3080 and RTX 3070 PCs
1. Gaming PCs
2. Office PCs
There are absolutely still bargains to be had on prebuilt desktops, often coming in at far less than the price it would cost you to build it yourself. Such as a $320 discount on a gaming PC outfitted with a Core i7 10700 CPU and GeForce RTX 2070 GPU, as well as several deals that will net you a coveted RTX 3070 or 3080 this side of the new year. Keep an eye on this page for more Cyber Monday PC deals as they come in throughout the day.
Unfortunately there are no deals on RTX 3080 or RX 6800 XT graphics cards this Cyber Monday—finding them even in stock is practically impossible. But prebuilt gaming rigs are the one way you can actually get ahold of one of those fancy new cards today. It's a route to consider if you need a whole new PC, as opposed to just a quick upgrade. 
Though you also won't be able to get your hands on AMD's Ryzen 5000 processors, either, system builders can. That means the two most exciting parts in PC gaming right now are only easily accessible through a full PC like the ones below. As a bonus, some last-gen parts are ripe for price cuts, so we're seeing some good prices on PCs using those components.
We've split our recommendations up into three different categories: gaming PCs with Nvidia's latest GPUs, current-gen gaming PCs, and cheaper office PCs. Because, y'know, there are times when you just need a dumb box to do more mundane tasks.
Cyber Monday deals: quick links
Cyber Monday RTX 3080 and RTX 3070 PCs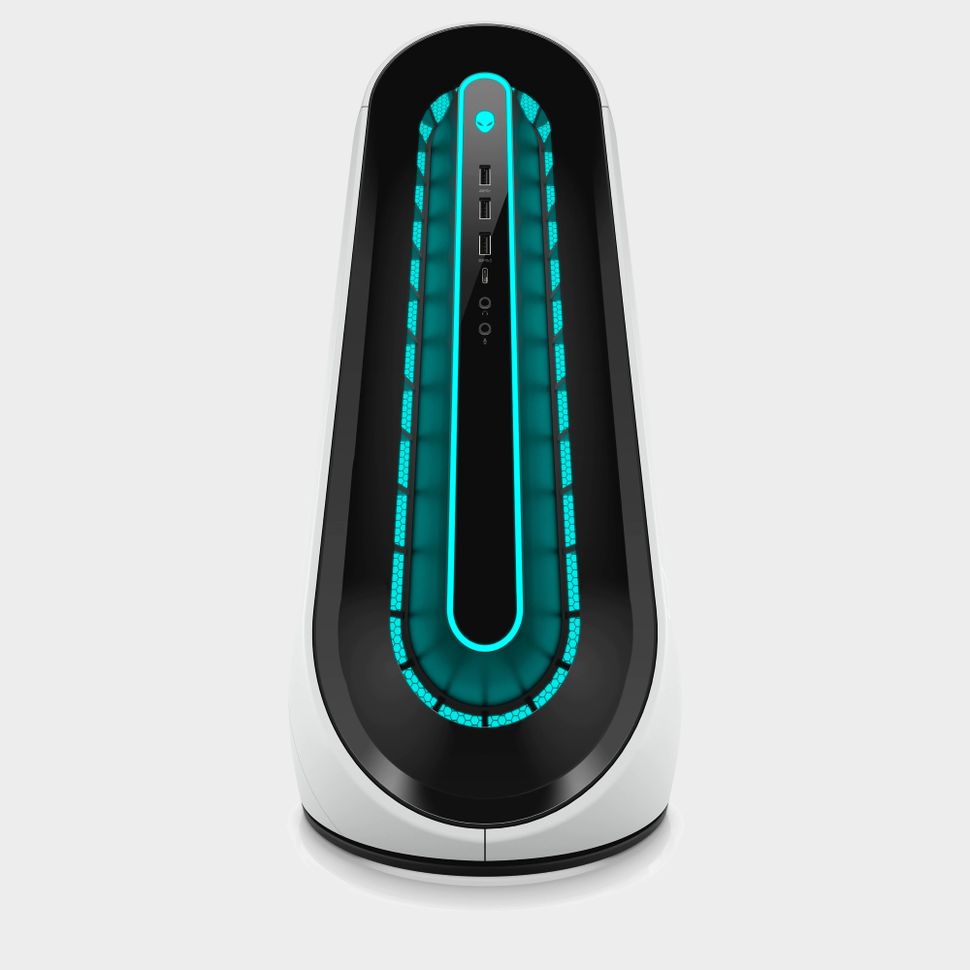 The best way to get a 3080.
Alienware Aurora R11 | i7 10700KF | RTX 3080 | $2,439.99 $2,391.19 at Dell (save $48)
This isn't exactly a big savings on the Aurora R11, but it's currently our favorite pre-built gaming PC, and you can actually get one with an RTX 3080. Save yourself the hassle of searching for cards in-stock on every store on the internet.View Deal
Alienware Aurora Ryzen Edition R10 | Ryzen 7 | RTX 3080 | $2,039.99 $1,619.99 at Dell (save $423)
This gaming PC comes with a fantastic graphics in the RTX 3080, which is more than capable of high-fidelity 4K gaming and ray tracing. It also comes with an AMD Ryzen 7 3700X CPU, a great eight-core chip, and 16GB of 2,933MHz memory. There's even a whopping 1TB of NVMe SSD space for all your games. What more could you need?View Deal
VYBE RTX 3070 AMD Ryzen 5600X build | $1,899 $1,599 at Maingear (save $300)
It's proving to be especially difficult to find RTX 3070 cards and Ryzen 5600X CPUs at the moment, but this prebuilt gaming PC has both installed and ready to go. Saving $300 and not having to spend any time building sounds like a dream to me.View Deal
iBuyPower Ampere Gaming PC | RTX 3080 | Intel i9 | $2,299 at iBuyPower
Buying an RTX 3080 is nigh-on impossible right now, so a pre-built system is absolutely the way to go for that sweet, sweet Ampere graphics. This iBuyPower machine has also nets you a 10-core CPU, 32GB RAM, and a 1TB SSD. Delivered by 12/25.View Deal
iBuyPower gaming PC | RTX 3070 | Intel i7 | $1,629 at iBuyPower (save $220)
You can bag an RTX 3070 this weekend it seems... you just have to buy a full system wrapped around it. That's some fancy wrapping paper, including 16GB RAM, 1TB NVMe SSD, and the 8-core, 16-thread 10th Gen Intel Core i7. The system is expected to be delivered by Christmas Day.View Deal
NZXT gaming PC | Get $100 any PC build over $1000
NZXT is offering $100 off any PC build over $1000. Sadly, the only 30-series cards in stock are the beefy (and exorbitantly expensive) 3090s. There's a few pre-built PCs with a variety of configurations to choose from, or you can build your own and still save $100 if it's over $1000.View Deal
Cyber Monday Gaming PC deals
HP Pavilion Gaming Desktop | RX 5500 | Core i5 10400 | $879.99 $593.99 at HP (save $286 with coupon code)
With an AMD RX 5500 and Intel Core i5 10400 combo inside, this PC is built with some of the latest PC gaming tech around. It's no slouch either, and there's plenty of room to upgrade down the line. A great starting point for any PC gamer, make sure to use coupon code 'SMBHOL10' to maximise the discount.View Deal
HP OMEN 30L | Ryzen 7 3700X | RTX 2060 | 16GB | 1TB HDD + 256GB SSD | $1,249.99 $949.99 at Best Buy (save $300)
If you're looking for a great midrange prebuilt, the HP OMEN 30L at Best Buy is available for $300 this Cyber Monday. Equipped with the 3rd-gen Ryzen 7 3700X and Nvidia's RTX 2060, the 30L is ready for high performance 1080p gaming. It also comes with a 256GB / 1TB storage combo and 16GB of RAM. View Deal
Skytech Gaming PC| Ryzen 5 | AMD Radoen RX 580 |$749 $619.99 at Newegg
Skytech has some interesting case designs, don't they? This menacing tower actually houses a pretty affordable AMD on AMD budget build. Upgrade the RAM to 16GB, and you've got yourself a nice little err big system. View Deal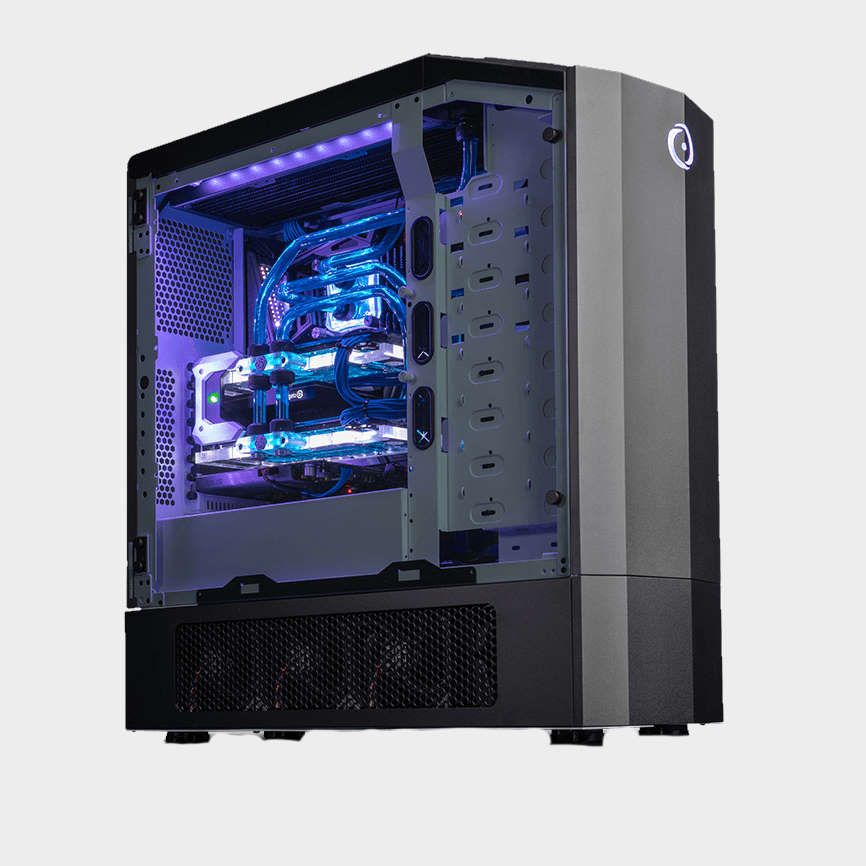 Origin PC deals | Pick up to 3 free gifts on select systems
Origin hasn't yet listed any specific system deals, but it has launched its Black Friday bundles. The bonuses take the form of either a $50 VISA card, a 500GB Seagate SSD, a Corsiar Void Pro wireless headset, a Corsair K55 and Harpoon keyboard/mouse setup, a Corsair Dark Core Pro mouse, or an Elgato Mini Dock.View Deal
Digital Storm Deals | Up to $500 off custom systems
Boutique PC builder, Digital Storm, is offering numerous discounts when you spend over $2,000 on a custom build, with discounts going up to $500 if you spend $5,000. They are also throwing free RGB LED lights and free ground shipping for your troubles.
Cyber Monday Office PC deals
HP Pavilion TP01-0145m | Ryzen 3 3200G | Radeon RTX 550| $549.99 $399.99 at Walmart
This unassuming box is a bit of an oddity for an office machine in that it pairs the Ryzen 3 3200G's integrated graphics with a Radeon RTX 550 graphics card. Beyond that you get 8GB of RAM, a 128GB boot SSD for the bundled copy of Windows 10 Home, and a 1TB HDD. A decent work system that could play the odd game at a push.View Deal
Lenovo IdeaCentre 3 | Ryzen 3 3250U | $419.99 $269.99 at Lenovo
AMD's recent successes aren't limited to gaming, as this Ryzen 3 3250U-powered office PC proves. This perfectly capable work machine is enjoying $150 off its normal price right now, and for that you get 4GB of RAM and a 1TB HDD. The 3250U is a dual-core, quad-thread CPU that tops out at 3.5GHz, and really not too shabby. You do get Windows 10 Home for your money as well.View Deal
What to look out for in a Cyber Monday gaming PC
There's only the slimmest of chances that we'll see machines packing the latest and greatest gear hit the bargain bins. The fact that every retailer appears to be selling every RTX 3070, RTX 3080, and RTX 3090 they get their hands on means that there's no need for them to try and entice customers with Nvidia's latest tech. The same is true for AMD's Ryzen 5000 processors, and I'm guessing it'll be a similar story with the Radeon RX 6000 graphics cards. 
The shortage of new hardware has had two effects on the pre-built system market. The first is that it has never been busier, so if you do want a cutting-edge system, you're going to need to throw some money down with your system builder of choice if you want anything this side of Christmas (assuming it isn't too late already). If you desperately want an RTX 3080, this is still probably the quickest way of getting one.
The second, and the one that's potentially more interesting to anyone looking to grab a Cyber Monday gaming PC bargain, is that the last-gen machines just aren't as tempting as they were before this autumn's tech bonanza. At least not for the same money. All this last-gen kit doesn't just miraculously disappear though, retailers and system builders need to sell it to make some money back.
Here's the thing, there's absolutely nothing wrong with machines built around Zen 2, Intel 10th-Gen CPUs, and Nvidia RTX 2080s if the price is right. If you'd bought such a machine six months ago, you'd have enjoyed some great gaming with it, and that doesn't change with the release of new hardware. Don't be put off because such machines don't use the very latest, greatest hardware, basically. There are still some perfect machines out there.
As ever when hunting for bargains, focus on what you need and don't be swayed to grab a bargain just because it's cheap.