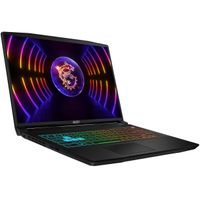 MSI Crosshair 15 | RTX 4070 | Intel Core i7 13620H | 16-inch | 144Hz | 1200p | 16GB DDR5 | 1TB SSD | $1,699.99 $1,399.99 Best Buy (save $300)
We were surprised to see a new 16-inch RTX 4070-powered laptop for only $1,400. This Crosshair has a current-gen Intel CPU, so it's great for working and gaming. Also, the display has a 16:10 aspect ratio, so you get more field of view which is super useful in first-person shooters.
The eagle eyed bargain hunters will point out that cheaper RTX 4070 equipped laptops do pop up on sale, but it's rare to come across one that includes a 13th Gen i7 processor and a 16-in 1920 x 1200 screen. That makes this deal for an MSI Crosshair 16 for $1,399.99 at Best Buy a pretty good one indeed.
Firstly, the RTX 4070 contained within the confines of the Crosshair 16 is a very capable one. It's based on the AD106 GPU, the same as the one found inside the desktop RTX 4060 Ti. That means it'll have more than enough grunt to drive the 1920 x 1200 screen.
And as its an RTX 40-series graphics chip, you'll be able to use Nvidia's latest goodies, including DLSS 3 and frame generation. The RTX 4070 generally isn't going to struggle at 1200p but if you turn on all of the ray tracing settings in modern games, enabling these options (in games that support them) will give you silky smooth gameplay. Well, Cyberpunk 2077 might be an exception, but don't worry about that, even an RTX 4090 machine at 3x the price of the MSI Crosshair 16 can be brought to its knees by that one.
The other specs stack up pretty well too, with the Intel Core i7 13620H being a highlight. This chip comes with six performance cores and four efficiency cores, giving you a total of 16 threads. It can run as high as 4.9GHz, so if you're doing a little or a lot with the MSI Crosshair 16, it'll give you strong performance, especially at this price. It's a good sweet spot gaming CPU.
The rest of the specs look pretty good too. The aforementioned 16:10 1920 x 1200 screen supports a 144Hz refresh rate. That little bit of extra vertical resolution is always welcome. Add to that a 1TB PCIe 4.0 SSD, 16GB of RAM and a good set of connectivity options and you've got yourself a good laptop at a good price. Oh, and at 5.07 Lbs. its not too heavy for a backpack for a bit of on-the-go action.
If your budget doesn't stretch to $1,400 for the MSI Crosshair 16, or on the flipside, you're looking for something more powerful, do check out our regularly updated gaming laptop deals page. There's always a bargain to be had.