Talk about a timely deal (and no, we didn't plan it this way)—earlier this week, Andy Kelly wrote a tutorial on how to build a tiny PC for playing classic console games (opens in new tab), and now you can save around $40 on a Raspberry Pi 4 starter kit that includes everything you need.
These are not the exact same parts that Andy used, but they will get the job done. Or you can try your hand at a myriad of other projects made possible by these hobbyist kits. Whatever your goal, you can get started by saving some money—it's on sale for $99.98 (down from $119.99), and if you tick the 10 percent coupon box and apply coupon code LABISTS1 at checkout (two separate discounts you can pile on top of each other), it brings the tally down to $79.98.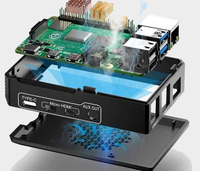 (opens in new tab)
Labists Raspberry Pi 4 4GB Starter Kit | $119.99 $78.98 at Amazon (save $41.01) (opens in new tab)
This is a fantastic bundle to tackle a variety of Raspberry Pi 4 projects, whether it's a desire to learn how to code or you're wanting to build a retro console. Be sure to tick the 10 percent coupon box AND apply promo code LABISTS1 at checkout for the full discount.

The foundation of this starter kit is the Raspberry Pi 4 Model B 4GB (Andy used the 2GB version in his tutorial). It's powered by a 1.5GHz quad-core Cortex-A72 CPU and features built-in Bluetooth and 802.11ac Wi-Fi connectivity, two HDMI outputs, four USB ports, and a microSD card slot (among other goodies).
Speaking of the card slot, this bundle includes a 32GB microSD card. It also comes with a case, cooling fan (with a screwdriver to attach the fan), USB A+C card reader, heatsinks, two micro HDMI cables, Type-C power supply with on/off switch, and a quick start guide.