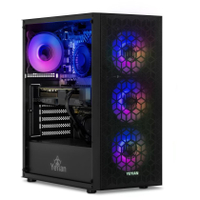 Yeyian Yumi | Core i5 12400F | Nvidia RTX 4060 | 16GB DDR4-3200 | 1TB SSD | $1,199.99 $829.99 at Newegg (save $370)
This is a good deal for a mid-tier gaming PC, especially when many rigs around this price are delivering you an RTX 3060 or RTX 3060 Ti. The Core i5 is still a solid CPU today, and RTX 4060 is probably the mainstream GPU of Nvidia's current generation of cards you'd expect in a budget build, comfortably beating both those RTX 30-series mainstays, and with the added panacea of DLSS 3.5 and Frame Generation. You also get 16GB RAM and a 1TB NVMe SSD.
When it comes to the affordable end of pre-built gaming PCs, I'm usually expecting to make some sort of sacrifice for a good deal. Be that a tiny boot drive, 8GB of RAM, or a pitiful PSU. Well, you don't have to do that here. This Yeyian Yumi PC from Newegg checks a lot of boxes for under $850, and comes from our current favorite budget PC builder.
For starters, it's powered by Nvidia's GeForce RTX 4060. A solid 1080p GPU, and the cheapest way to score Nvidia DLSS and Frame Gen support, admittedly we would love if this card were a little cheaper. That said, this build doesn't charge too dearly for the privilege.
I wish I could say this is an entirely current-gen PC build, but it's using an Intel Core i5 12400F—that's almost two generations old by now. Still, it's a great gaming chip that we loved on team, and it'll pair perfectly with that graphics card.
The good thing about this build is that, if you felt like an upgrade, you could bump that CPU to a much more modern Intel chip without swapping out your motherboard.
Importantly, that chip is fed by 16GB of DDR4 RAM at 3200MHz. A decent amount for modern-day gaming. There's also a 1TB SSD stuffed in here, which should keep you in the black for storage capacity for at least a month. You might want another SSD in here at some point, but don't worry, SSDs deals are aplenty right now.
I have my reservations about the included keyboard and mouse here. These freebies are not usually of the sort of quality we'd like to game on every day. Still, those are an easy upgrade down the line—that's the beauty of PC gaming, you don't have to upgrade everything at once.