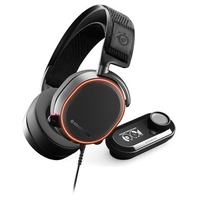 SteelSeries Arctis Pro + GameDAC| 40mm drivers | 10-40,000Hz | Closed-back | Wired | $249.99 $152.00 at Amazon (save $97.99)
SteelSeries have a reputation for making fantastic gaming headsets, and this Arctis Pro + model is certainly no exception. It's got a crystal clear bidirectional mic, a super comfortable "ski goggle" fabric headband and some great sounding drivers, but the real thing to pay attention to here is its dedicated DAC+ amplifier with OLED screen. This headset sounds absolutely brilliant as a result, and should jump straight to the top of your list at this price.
SteelSeries has been knocking it out of the park with its gaming headsets for some time now, and has developed quite the reputation amongst gamers for its solid build quality, great sounding drivers and excellent microphones. Even amongst its lauded siblings however, the Arctis Pro + GameDAC still has some tricks up its sleeve that make it stand out, and given that its currently on discount for $152 at Amazon right now we reckon it's well worth a look.
Simply put this is still one of the best sounding gaming headsets money can buy, as we discovered when we reviewed the Arctis Pro + GameDAC back in 2018. This supreme audio performance is achieved by the addition of a dedicated DAC and amplifier in the signal chain, which back in the day made it the first headset to feature a certified Hi-Res audio system with DTS Headphone: X surround sound.
Many things may have changed in the years that have passed, but one thing that hasn't is the simply gorgeous soundscape this feature provides. If audio quality is your main concern, both in gaming and for music listening, then the SteelSeries still stands head and shoulders over most of its competition to this very day.
Beyond its luscious musical tones and excellent accuracy this headset comes with one of the best microphones we've heard on a gaming headset, the legendary ClearCast bidirectional system. The boom tucks itself away neatly within the frame when not in use, and delivers a beautifully crisp level of clarity in its enunciation that is sure to make it stand out in your next Discord call. The headband is remarkably comfortable and the inner material is made of what SteelSeries refer to as "ski goggle fabric", which feels soft yet supportive atop your noggin.
The RGB lighting is subtle (imagine that!) with a faintly glowing ring around each earcup, and overall this feels like a reassuringly premium piece of gear. Even the screen on the dedicated GameDAC box is an OLED, and it's all controlled by a solid and easy to use rubberised dial.
While it might be tempting to go all-in on an expensive wireless model from the latest generation for your next headset purchase, the SteelSeries Arctis Pro + GameDAC proves that sometimes it's a good idea to stick with the classics. It's still a superb piece of design, and if you don't mind looking at wired solutions we think you'll be very happy indeed with the excellent audio quality it provides. $152 is a great price for such laudable sonic chops, and it's still very much worth considering if sound is your primary concern.