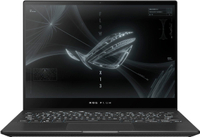 Asus ROG X13 Flow | Nvidia RTX 3050 Ti | AMD Ryzen 9 6800HS | 13.4-inch | 1200p | 120Hz | 16GB | 1TB NVMe SSD | $1,499.99 $849.99 at Best Buy (save $750)
This isn't a pure gaming laptop. Instead, it's a very high quality compact 13.4-inch portable with a fabulous 120Hz 16:10 display, a powerful eight-core AMD CPU, great build quality and decent entry level gaming chops. And it's nearly half its original price. Get in.
Gaming laptops and portability don't always go hand in hand. But if you're willing to compromise a little on ultimate GPU performance, then this slick little 13-inch Asus lappie is well worth a look.
Now yours for a piffling $849.99 in Best Buy's Amazon Prime Day-match sale, the Asus ROG X13 Flow has had a massive price haircut from $1,599. We checked out the much slower GTX 1650-powered version before, and you can see from our ROG X13 Flow how much we like this little lappy.
The main attractions here involve portability from the 13-inch form factor, great build quality, slick styling, a fabulous 16:10 screen and reasonable entry-level gaming performance from the RTX 3050 Ti GPU. In short, this is a premium, high-quality portable that's now available for budget laptop money.
The screen is a full 1,920 by 1,200 stunner, runs at 120Hz and it sits on a 360-degree hinge and supports touch functionality. On the CPU side of things, you get an AMD Ryzen 9 6900HS eight-core chip, which is all the processing power you are ever going to need.
The laptop also supports Asus' XG Mobile external graphics box, if you want to add more GPU performance than the RTX 3050 Ti, albeit that would come at a significant additional cost.
What's more, Asus claims 12 hours of battery life, which is far more than most gaming portables. Even if that's optimistic and the real world battery life is only two thirds the claimed figure (gaming battery life will be a small fraction of the rated endurance), you're still looking at far more mains-free operation than most gaming portables.
Anyway, the appeal here isn't pure gaming. It's about having a really nice 13-inch laptop for general on-the-go computing with great styling and build and a nice screen with some decent gaming chops on the side. At this much lower price, it's quite a deal.