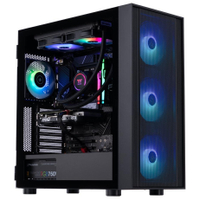 ABS Stratos Aqua | Core i7 13700KF | RTX 4070 | 16GB DDR5 RAM | 1TB PCIe SSD | $1,799.99 $1,439.99 at Newegg (save $360)
This ABS gaming rig is a good entry-level system with a nice base to expand if you decide to upgrade down the road. The RTX 4070 inside makes it ideal for 1440p gaming at pretty high settings with a decent framerate.
Looking for a budget-friendly yet powerful gaming PC with a great CPU/GPU combination to get you started? Well, we've spotted that Newegg currently has one of our best cheap gaming PC contenders down to $1,440, a full $360 off its usual asking price.
This particular version of ABS's Stratos Aqua features an Intel Core i7 13700F with eight Performance- cores, eight Efficient-cores and 24 threads, snugly tucked inside an MSI B760 motherboard. Nestled alongside that is 16GB of Kingston Fury RGB DDR5 5600MHz RAM. While it's true that we'd like to see 32GB fitted to a modern gaming PC these days, a RAM upgrade is one of the easiest and cheapest modifications you can make to any PC, and 16GB is still regarded as sufficient for most games.
We'd venture that while this CPU and RAM combo is certainly a good mid-range combination as things stand, the most important thing here is getting a foot on the ladder with the LGA 1700 socket and DDR5 support, and that's something this system most certainly provides.
Further down the spec sheet you'll notice MSI's version of the formidable RTX 4070, which is certainly a solid version of one of our most recommended GPUs. Buying into the 40-series at this point allows you to take full advantage of Nvidia's DLSS 3 and its Frame Generation technology, ensuring that you're well-placed to reap the benefits of the extra frame rate and enhanced image quality it provides.
Continuing onwards it's worth noting that along with a Kingston 1TB M.2 NVMe SSD this particular configuration makes use of the Corsair RM750e Gold PSU. A common complaint amongst pre-built system buyers is that companies often try to save money by installing no-name power supplies, so it's nice to see a system taking advantage of the extra reliability and peace of mind a robust PSU from a trusted supplier brings to the table. There's some nice headroom available here, and should again make those of you looking for a great starting point sit up and take notice.
Rounding off our jaunt through the specs is the case, which is a rather handsome Micro-ATX unit with plenty of included fans and a nice bit of space for future additions. Personally we're not entirely sold on the CPU cooler included within, but there's certainly room in there for a larger model if things start to get a little toasty, and this is also a relatively easy upgrade should you feel so inclined.
It can be difficult to find decent mid-range systems with plenty of room to improve at a discount these days, although with Black Friday fast approaching it's likely we'll see some other contenders fall into this price bracket. Still, as things stand this system is a lot of PC for the money, and well worth some serious consideration.