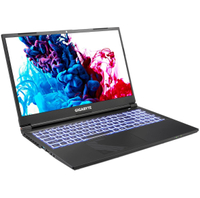 Gigabyte G5 | Core i7 12650H | RTX 4060 | 16GB DDR5-4800 | 512GB SSD | 15.6-inch 1080p 144Hz | $1,099.99 $799.00 at Best Buy (save $300)
This is a lot of laptop for not very much money. To start with, you're getting a 10-core, 16-thread CPU that will easily cope with pretty much any game you throw at it. There's an RTX 4060 Mobile graphics chip too, that supports DLSS upscaling and frame generation. The storage and RAM are a bit disappointing, and you'll probably want to upgrade it at some point with a large SSD. For portable gaming and school work, though, this Gigabyte G5 laptop will keep you and your wallet happy.
There are some many great PC games that you can play right now, so what better way to get stuck in by grabbing this bargain of a gaming laptop at $800. The Core i7 12650H processor has six P-cores and four E- cores, which is more than enough for most games and pretty much any school or office-level application. Anything more powerful would be wasted, when the rest of the laptop is better matched to this CPU.
The RTX 4060 Mobile graphics chip has 3,072 shaders, a boost clock of 1,890MHz, and 8GB of VRAM. It's best suited for gaming at 1080p, which is ideal as that's the resolution of the 15.6-inch screen. With a refresh rate of 144Hz, it will be very easy on the eyes and in games that support it, you'll be able to use DLSS 3.5 features to improve the game's performance to match that refresh rate, for smoother visuals.
Of course, you're not going to get the very best of everything for $800 and the first corner that's been cut is the storage. The SSD only has a capacity of 512GB and while that was fine a year ago, it's a bit disappointing these days. Fortunately, large SSDs are cheap at the moment, so you'll probably want to upgrade the drive if you do a lot of gaming.
The amount of RAM is a tad low, at just 16GB, but that's enough for most games. However, it's DDR5-4800 which isn't the fastest you can get. I wouldn't change it immediately but if I was going to keep the laptop for a good while, I'd want to upgrade the RAM to 32GB of DDR5-5600 to give the CPU a healthy performance boost.
Overall, the specifications are nicely balanced, and there isn't really one part that sticks out as being really poor compared to the others. There's enough performance on tap to keep gamers and students happy. Don't believe me? Then check out our review of a 12500H-powered Gigabyte G5. This deal is an even better laptop.