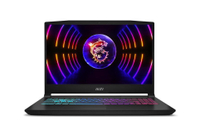 MSI Katana 15 | Nvidia RTX 4070 | Intel Core i7 12650H | 15.6-inch | 144Hz | 1080p | 16GB DDR5 | 1TB SSD | $1,499 $1,319 at Newegg (save $180)
Proof that Nvidia's new RTX 40-series graphics tech doesn't always come at a crazy price. This RTX 4070 laptop is relatively affordable and comes ready to roll with 16GB of RAM and a 1TB SSD. The 15.6-inch screen rocks IPS tech and 144Hz, too. OK, it runs last-gen Intel CPU tech, but with six performance cores, it has all the processing grunt you need for gaming.
This precise MSI Katane 15 gaming laptop was already in our list of the very best gaming laptop deals currently available. But one of the best just got even better, as Newegg has just shaved off another $40.
So, what do you get for your grand total of $1,319? This is a 15.6-inch model with a 144Hz IPS panel rocking 1,920 by 1,080 pixels. To that you can add an Intel Core i7 12650H CPU.
OK, that's a 12th Gen rather than the latest 13th Gen Intel chip. But we'll let you in on a little secret here. Those two generations are architecturally pretty much identical.
So, what matters is that the 12650H rocks six Performance cores, which is plenty for gaming, plus another four Efficient cores, just to help with battery life and bump up the multi-threaded throughput to a total of 16 threads of processing power. Basically, it's plenty of CPU.
On the all-important graphics side of the equation, you get the aforementioned RTX 4070 mobile GPU. It's essentially a rebadged RTX 4060 Ti desktop GPU with the clocks adjusted down slightly for laptop use.
It's not going to tear Cyberpunk a new one at 4K with ray tracing set to full reheat. But it's a pretty performant little GPU, despite its mere 128-bit memory bus and 8GB of VRAM, and pretty well matched to the high-refresh 144Hz display, too.
Elsewhere, you get a health 16GB dollop of system memory, plus a 1TB SSD. So, you're not immediately wanting for anything straight out of the box. You can just boot up, get your favourite games installed, and let the good times roll.
Design-wise, it's a pretty sleek 15-incher and comes in at roughly 5lbs or 2.5kgs, so it's tolerably portable. The four-zone RGB backlight is a nice touch, too, and the port selection includes USB-C with DP alt mode and HDMI 2.1.
It is, in short, a very nice overall machine for the money.