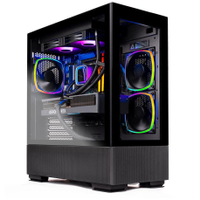 Skytech Azure | Intel Core i5 13600K | Nvidia RTX 4070 Ti | 1TB SSD | 32GB DDR5 RAM |$1,799.99 at Newegg
The recent price drop on this liquid-cooled Skytech Azure gives a lot of performance for under $2,000. The current-gen Core i5 CPU provides a pretty generous core count for the price, and the RTX 4070 Ti inside it is no joke.
Newegg has dropped the price of an RTX 4070 Ti-powered Skytech Azure gaming PC to $1,800. On top of having a decent GPU, it's also got a solid current-gen Intel processor, which we don't often need to see inside systems below $2,000.
The innards of this Skytech Azure show an Intel Core i5 13600K CPU with an RTX 4070 Ti GPU and 32GB of DDR5 RAM. It also has a 240mm AIO cooler, which should provide better overall thermals than your standard fan-powered CPU cooler.
This PC is a great choice if you're looking to play games reliably at 1440p at high settings or if you're feeling bold, even at 4K. Just make sure to take advantage of the RTX-40 series' DLSS 3.0 and Frame Generation technology to boost the frame rate in supported games.
Like other cheap gaming PC deals we've spotted, the only downside is the 1TB SSD storage. It's not cutting it anymore, especially when you factor in the number of major releases that don't fit on a 1TB SSD this year. At the very least, you'll need a 2TB SSD; thankfully, those are only getting cheaper and cheaper every week.
If you don't mind a last-gen CPU and a couple of extra fans, this Thermaltake View i467T R4 for $1,650 at Best Buy we spotted a few weeks ago is also a sweet deal. Oh, and it's got a nice white case, which I'm always a fan of.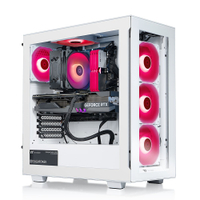 Thermaltake View i467T R4 | Intel Core i7 12700F | Nvidia RTX 4070 Ti | 1TB SSD | 32GB DDR5 RAM | $1,599.99 at Best Buy
Thermaltake has been knocking it out of the park with some desktop deals recently, and this RTX 4070 Ti system is no exception. Yeah, it's got a last-gen CPU, but it still has enough horsepower to play most of your games with all the bells and whistles turned on.
There's also this ABS Vortex Aqua for $1,750 that's a current-gen Core i7 with half the RAM and lacks liquid cooling, so it'll be less quiet than the Skytech. But hey, options are always good.
Also, if you want to save even more money (or want a fun weekend project), you should check out the best gaming PC builds. This guide is handy in explaining which components are best for each budget. Happy shopping.