There might be new Nvidia hardware around the corner, but with no indication that new GPUs will trickle down to laptops this year, it's as good a time as any to pick up a new gaming laptop. Right now, one of Asus' mid-range options with a Ryzen 5 processor is down to $849.00 on Newegg, a savings of $50 over the usual price.
The ASUS TUF Gaming A15 comes in many different configurations, but the one on sale has a 6-core/12-thread Ryzen 5 4600H processor, an Nvidia GeForce GTX 1660 Ti graphics card. Thankfully, the GPU seems to be the full-blown mobile card, rather than the slower 'Max-Q' version—the product page lists a TDP of 80W, which is higher than the Max-Q's TDP of 60W.
Other specifications include 8GB of DDR4 3200Mhz RAM, a 512GB NVMe SSD for storage, an RGB-backlit keyboard, and a 15.6-inch 1080p 144Hz screen. Even if you might have to upgrade the RAM later, that's still an incredible package for under $900.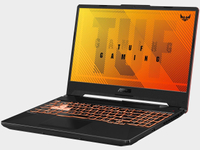 We reviewed one version of the Asus TUF A15 earlier this year, and we ended up loving the 144Hz screen and robust design. Our friends at TechRadar gave the laptop a 9/10 for the same reasons, and Tom's Hardware praised its long battery life and satisfying keyboard.
If this Asus TUF model isn't quite what you're looking for, take a look at our roundup of cheap gaming laptop deals. We update it throughout the week with any great discounts we can find from a variety of retailers.