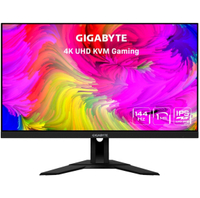 Gigabyte M28U | 28-inch | 4K | 144Hz | IPS | $429.99 at Amazon
Here's a monitor we really rate from our Gigabyte M28U review. We actually loved this package for its blend of speed and resolution, even at its original $650 price tag. At this tantalizingly cheap price, it's that much better.
Price check: Newegg $479.99
We're big fans of this monitor, and have been ever since our M28U review all the way back at the start of 2022. It's been subject to a fair few discounts since then, and we highlighted it not so long ago as a great deal at $530. Well, those of you still in the market for a stunningly high-specced 28 inch 4K display are in for a treat, as we've just spotted it for $430 at Amazon.
There's a reason for all those glowing recommendations, and a big part of it is that fabulous IPS panel. A 4K resolution, 144Hz refresh rate and vibrant colors mean this display has the specifications to keep up with and even outclass many of its peers. More than that you get great viewing angles, excellent contrast and even superb black levels, which are traditionally a sticking point for even some of the best IPS displays. Not so here, where the Gigabyte M28U puts even some of the most expensive panels to shame.
It's nice and speedy too, with response times coming in at 2ms MPRT and 1ms GTG, meaning that this monitor can keep up with super fast action and competitive gaming with hardly any ghosting. We found that the speed overdrive setting was a little overzealous and resulted in some artifacting, but the Smart OD setting worked well enough at ensuring this display can keep up with the pace of just about anything you could throw at it.
With a 144Hz refresh rate at 4K resolution the M28U really does pack in some unexpected features, and at this price you're unlikely to find anything better equipped to put you in image-quality nirvana.
Of course it's not all good news. 28-inches may be a little on the small side given its 4K resolution, so much so that you might want to think about enabling some scaling options for text readability, and the fact that it only supports DisplayHDR 400 is a definite negative. That's barely even HDR. We also found the stand to be sturdy enough, but a little cheap looking for our tastes. However, if you're prepared to overlook some of its little foibles and treat it as an excellent high-resolution, high refresh rate SDR display, this little monster really is a great all-rounder.
If what really matters to you is getting a fantastic looking 4K panel in front of your eyeballs without breaking the bank, the Gigabyte M28U is a premium monitor for really not a lot of money. 4K displays are dropping in price at the moment in anticipation of further Black Friday gaming monitor deals, but we still don't think you'll see one of these beauties for much less than this.