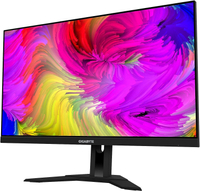 Gigabyte M28U | 28-inch | 4K | 144Hz | IPS | $599.99 $529.99 at Amazon (save $70)
Here's a 4K gaming monitor we really like (see our review). It's a good blend of speed and resolution, even at its $600 price tag. At this tantalizingly low price, it's that much better.
Price Check: Newegg $529.99 (with rebate) | B&H $529.99
Amazon has a deal on a really lovely 28-inch 4K gaming monitor from Gigabyte for $529. It's the cheapest it's been this year, and since 4K gaming can be wildly expensive, saving money in the process is always OK in my book.
The Gigabyte M28U stands out with its impressive specifications: a 144Hz refresh rate and a swift 1ms GTG response time, all presented on a rich IPS panel. This monitor strikes an optimal balance between performance and visual excellence.
Even at its standard $600, the M28U was already well-priced, but the current $70 discount makes it a more tempting choice, especially when you compare it against something like Samsung Odyssey G7, which currently sells for $600, which roughly has the same specs.
Naturally, your PC's hardware must be up to the task to harness the full potential of its 3840 x 2160 resolution and high refresh rate: if you plan to game on it, you'll want a robust Nvidia RTX 40-series graphics card or a comparable option from our best graphics card list. Features like DLSS 3 make it easier for RTX 40-series cards to get a big framerate boost at 4K.
Our review of the M28U noted that this thing is packed with many features you don't usually see on cheaper 4K gaming monitors, which really sets it apart. Notably, it's got a pair of HDMI 2.1 ports, enabling seamless connectivity with a PlayStation 5 or Xbox Series X to indulge in gaming at 4K/120Hz. Additionally, the monitor boasts a convenient KVM Switch, streamlining the use of a single keyboard and mouse across multiple devices.
We didn't like that the desktop stand for the monitor feels cheap and provides limited movement options. You can slightly adjust height and tilt and nothing else. One weird thing about the stand is that it has these underside pads that are glued to it that can peel away fairly quickly.
Aside from that, the Gigabyte M28U has much to offer, embodying all the desirable attributes of a top-notch 4K gaming monitor at an attractive price point. It's the best cheap gaming monitor deal we've spotted this week.