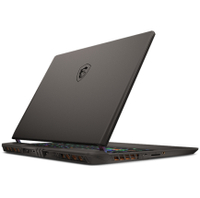 MSI Vector | RTX 4080 | Intel Core i9 12900HX | 16GB DDR5-4800 | 1TB SSD | 1200p | 144Hz | $2,099 $1,599 at Newegg (save $500)
This is the most affordable RTX 4080-based gaming laptop I've found, possibly at any time this year. It's not some hobbled GPU implementation either, using a 175W design of the graphics card to give you the full gaming performance. It's certainly not the most beautiful laptop you will see, nor the slimmest (though that helps keep it cool), and I'd rather a higher refresh rate panel and a bit more RAM, but it's a great price for an otherwise high-spec gaming machine.
Price check: Amazon $2,090.87
We've been monitoring the best Black Friday gaming laptop deals in the run-up to the big sales event in a couple weeks, and this is the single best deal I've seen on a gaming laptop so far. For $1,599, you score this MSI Vector GP68HX gaming laptop with an RTX 4080 stuffed inside, and the rest of the laptop looks ace too.
The RTX 4080 is the highest performing laptop GPU that we'd recommend here at PC Gamer. That's because we've tested heaps of both RTX 4080 and RTX 4090 machines, and often find that there's never enough between them to recommend the best of the best, the RTX 4090. The RTX 4080 is a much better value proposition, as this laptop proves.
This isn't some pale imitator of an RTX 4080, either, it's a full 175W version stuffed in the MSI Vector. That's right up there with the most performant RTX 4080s we've tested this year, such as in the Asus ROG Strix Scar 16 and Acer Predator Helios 16.
You can also turn on DLSS and Frame Generation with this RTX 40-series GPU, which will push performance quite a bit in supported games. You'll get one of those for free with this laptop—an Alan Wake 2 code is included, which I believe to be the best way to show off what an RTX 40-series GPU can do.
For the CPU, it's a slightly older Intel chip. Though I wouldn't let that put you off. It's still one of Intel's hybrid architecture designs, and one of the best of its generation, the Core i9 12900H. I don't think you'll be lacking any oomph in CPU-dependent workloads, such as rendering or multi-threaded workloads, and it'll do wonders for gaming. We tested this same chip within the Asus ROG Strix Scar 17 and MSI Stealth GS66, both from 2022, and it came out top of the charts versus its contemporaries for single-threaded performance in Cinebench R23.
For memory, the Vector offers 16GB of DDR5-4800, which will do us just fine for gaming. It also comes with a 1TB SSD, which is decent enough for a boot drive, though will get pretty full, pretty quick if you're not careful. Depends on what you're playing, but it's enough space to work with, whereas 512GB tends to be too small nowadays.
While this laptop is a little limited on resolution at 1920 x 1200, it does come with our favourite laptop aspect ratio of 16:10. That little extra height on the screen really makes a difference for browsing the desktop and gaming, and with an RTX 4080 you don't have to worry about the extra pixel count impacting performance all that much. It's also an IPS panel, but we'd expect no less nowadays.
Round the whole thing off with lots of connectivity options, including Thunderbolt 4 and Wi-Fi 6E, and you've got a mighty gaming laptop for not a huge sum of money. If this is still too expensive for your liking, we've heaps of cheap gaming laptop deals to check out as well, most of which come with an RTX 4060 or RTX 4070 at their core.