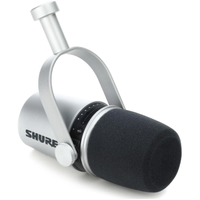 Shure MV7 | USB | XLR | Dynamic | Cardioid | $311 $199 at Amazon (save $111)
Our favorite microphone for two years, the absolute best in the business. Shure is a beast at making high-end, professional microphones, and its attempt at bringing its pro-grade sound to a slightly less pro-grade price is a home run. The only thing we're not too keen on is that it uses Micro-USB rather than Type-C, but it's well worth the investment to give your voice recordings the professional boost they deserve.

Price Check: Walmart $229 (Black) | Sweetwater $249
Amazon is currently offering a fantastic deal on the Shure MV7 podcast microphone, priced at just $199. This is a significant discount from its regular price of $311, making it an excellent opportunity to get your hands on one of the best gaming and podcast mics we've tested in a long time.
The Shure MV7 is a hybrid XLR/USB microphone, allowing you to connect it directly to your PC via USB or use an XLR cable to connect it to an audio interface. Its versatility is one of its standout features, and it provides stellar vocals.
While the ShurePlus Motiv desktop app provides extensive control options, the microphone requires minimal setup right out of the box. In my review, I highlighted its impressive ability to isolate my voice while effectively filtering background noise from my desktop PC, air conditioner, and other ambient nonsense.
As a matter of fact, the Shure MV7 is my go-to microphone for everyday use and serves as my trusted companion when I hosted This Week in PC Gaming. I connected it to a Focusrite Scarlett 2i3 interface using an XLR cable, and the sound quality is outstanding.

It's worth noting that the black version is oddly only discounted to $250, but don't worry; the silver one offers the same outstanding performance and, honestly, looks a lot nicer than the black one, anyway.
One crucial tip is maintaining a distance of more than six inches from the microphone to avoid noticeable plosives. Otherwise, using a filter can minimize this issue if you speak up close.
The MV7 does not come with a desk stand, so investing in a boom arm is necessary. I use the Rode PSA1, which costs around $100. It's quiet and has a lot of reach. However, the microphone should fit on most standard boom arms.
If the $199 price is still beyond your budget, you'll be glad to know that plenty of other affordable options are available during Amazon Prime Day. Numerous budget-friendly choices priced under $100 deliver excellent sound quality, although they lack some quality-of-life features, like a mute button.