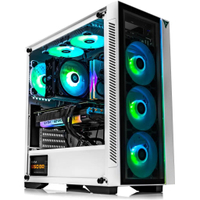 VRLA Tech Titan | Nvidia RTX 4070 | AMD Ryzen 5 7600 | 16GB DDR5-5200 RAM | 1TB NVMe SSD | $1,686 $1,561 at VRLA Tech (save $125)
A mega combo here of current-generation core components, backed up by just the right ammount of storage and a tasty bit of DDR5 RAM for a great price, even before the discount. It's out editors pick for the month on 40-series gaming PCs, and it's well worth a look.
I just finished benchmarking the VRLA Tech Titan, and boy am I pleased with it. Having slapped a bold 94 score on the review, I'm happy to announce that this machine is currently $125 off, though you can get it even cheaper if you're willing to reduce the number of fans.
During my testing, I was consistently surprised by a machine that even before the current discount is great value for money. Right now, the Titan is down to $1,561 on the VRLA Tech site, that's a good little discount on an already rather reasonable $1,686.
The config here includes 4x high performance fans—you might have to add these manually—because one of the only potential issues with this machine is keeping all the fantastic components running at a reasonable temps. That said, it didn't do terribly when it came to cooling, particularly on the GPU side of things.
Even after a day of benchmarking the RTX 4070 topped out at 71°C, but 85°C on the CPU side makes me think it might be worth nabbing one of the best AIO coolers instead, because the Ryzen 5 7600 in the Titan is well worth the extra spend. I'm talking absolutely badass gaming performance from this six-core, 12-thread, current-gen beastie. And if you're thinking of using it for rendering, you shouldn't have too much trouble there either.
As for gaming, I watched this stellar core combo take on the likes of Far Cry 6, and Metro Exodus Enhanced at 4K, Ultra graphics settings, no questions asked. And at 1080p you'll be able to make the most of a 120Hz gaming monitor, too, without switching the settings down.
What really gets me about this PC is that there's hardly a thing to complain about. For the price I was expecting to at least have to upgrade the SSD or the RAM.
While the SSD I got in my Titan test rig isn't the fastest out there, the load times are still great and you start off with more than enough storage space for a bunch of AAA games.
You're also getting some tasty DDR5-5200 memory that sure as heck won't let you down. Being dual-channel RAM (2x 8GB sticks) means it can handle most games with a good amount of bandwidth, though of course it still struggles with loading up all my thousands of Cities: Skylines mods.
Those little gripes don't stop it from being a gaming and productivity monster, though. And at that price, I'd be happy using it as my main PC. Besides, it comes in white at no extra cost.