Newegg, one of our go-to online retailers for acquiring PC components, has decided to integrate ChatGPT into several of its online features. Not only has it gone into the company's customer service chatbot, and into optimising search, but we're now seeing ChatGPT being used as an official AI PC building tool.
I was over here preparing to redact my position that you shouldn't trust an AI with vital PC building questions, but I'm not so sure I can stretch to a full backtrack just yet.
According to the press release, this newfangled AI PC build generator "helps customers discover compatible parts so they can build a desktop PC system with their preferred specifications and budget."
Alrighty, we thought. Let's put it to the test. It seems our jobs as tech journalists have turned into vetting artificial intelligence's potential to take over said jobs. So, is Newegg's AI PC builder tool about to oust us into oblivion? No. No it is not.
Already on the PC build homepage we're off to a bad start.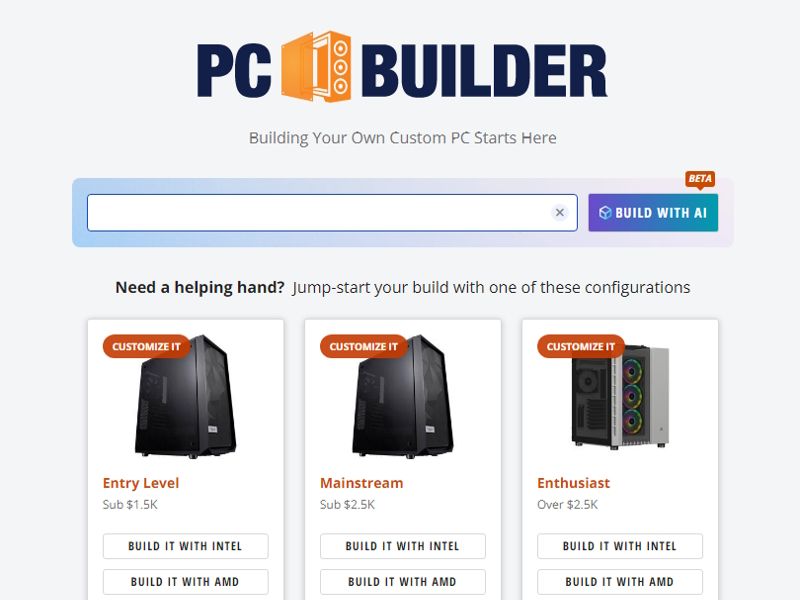 It suggests an "entry-level" gaming PC build should be sub $1,500. Now, we know for a fact you can get an entry-level gaming PC for less than $1,000. Of course, if you only plan to play next-gen games with ray tracing on full blast, at 4K, and with all your graphics settings on ultra, then $1,500 won't get you far right now. That's partially down to this being a somewhat transitional period after a round of GPU and CPU releases at the start of 2023, though its already settling down.
But the bottom line is, if you only want to play "entry-level" games like Stardew Valley or The Sims 4 on a 1080p monitor, a $500–$800 cheap gaming PC is going to be more than enough to see you through.
And those are prebuilt prices! There's no reason you shouldn't be able to source all the components and slap them together for a little cheaper.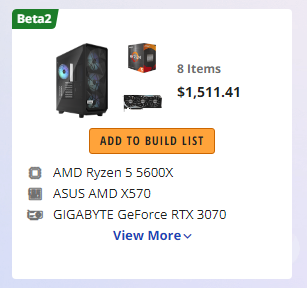 Newegg's ChatGPT integration, however, has other ideas.
For playing The Sims (I didn't even specify which one) it suggests a $1,511 monster PC build, with a last-gen Nvidia RTX 3070, and an AMD Ryzen 5 5600X CPU. Granted the part list it suggest does include an AIO cooler, which that CPU would need to get going, but it really is overkill for the use-case.
I've been playing The Sims 4 happily on an RTX 2070 Ti-powered gaming PC and a 10th Gen Core i5 Intel CPU for the past three years, and it's never let me down.
Further, my boss thought to ask the AI to "build a PC that can rival a PS5 for the same price". The results were… extortionate.

I'm afraid to ask what spec I would need to play the original Doom, as I know full well Doom will run on a literal potato. Genuinely, I'm starting to worry for people building their first PC in the age of AI.
Granted this in beta right now, but I can't imagine it'll start suggesting cheaper options. That wouldn't be very business savvy now, would it?
If you plan to give it a go, make sure to take the suggestions with a grain of salt, because AI with a business agenda is no friend to your wallet. If you're looking to build your own PC but are concerned over the prices thrown up by the AI, maybe check out our budget PC build guide instead.