Following the archeology announcement and those Sniffer details, Mojang has announced yet another Minecraft 1.20 (opens in new tab) feature today and it's a sweet one. The update will include a new biome after all: the Cherry Blossom biome. Mojang had kept pretty quiet about whether we could expect a new biome in 1.20 so this is a nice Valentine's surprise.
"These beautiful new trees fill the horizon with a stunning shade of pink," Mojang says. "Of course these new trees can also be broken down and crafted into a full wood-set, including the newly introduced hanging signs and cherry tree saplings to grow more of the lovely pink trees."
From the screenshots Mojang has shared in its announcement post (opens in new tab), you can spot cherry blossoms floating through the air beneath the trees, landing strewn across the ground. And the cherry blossom saplings look pretty cute in flower pots too. When they're full grown, Cherry Blossom trees have a purplish bark and pink wood inside. Apparently sheep, pigs, and bees are all drawn to the blossoms and will spawn in the new biome.
I'm all about getting a new wood set, and this means you won't need to install any Minecraft mods (opens in new tab) in order to get those pastel pink planks. I'll always be a fan of the Biomes O' Plenty (opens in new tab) mod—which does in fact add a cherry blossom biome among many others—for adding more tree and biome types than anyone knows what to do with, but it's nice to see Mojang continuing to throw new official wood types at us too.
Mojang says that this marks the last of the major feature reveals for the 1.20 update this year. Like the Sniffer and archeology tools, the new biome will be coming to a Minecraft Java and Bedrock beta near you "soon" Mojang says.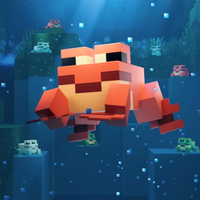 (opens in new tab)