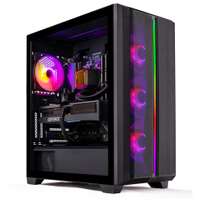 Skytech Siege Gaming PC | AMD Ryzen 7 5800X | Nvidia RTX 4070 Ti | 1TB SSD | 16GB RAM | $1,999.99 $1,799.99 at Newegg (save $200)
That's right, we tracked down another RTX 40-series-powered PC on sale. This Skytech Siege has a Ryzen 7 5800X CPU with an RTX 4070 Ti GPU backing it up. You're getting yourself some really good performance for less than two grand, and it'll even let you dip your toes into some 4K gaming.
Newegg has a Skytech Siege gaming desktop deal with an RTX 4070 Ti for $1,799, $200 off its regular price. It's one of the better deals we've spotted on gaming PCs with an RTX 40-series GPU.
This full-bodied PC has an AMD Ryzen 7 5800X CPU and an RTX 4070 Ti GPU combo with 16GB of DDR4 RAM. A good choice if you're looking to crank out the most frames at 1080p, 1440p, and just maybe 4K at a stretch.
The RTX 4080 12GB RTX 4070 Ti offers RTX 3090 performance with more power efficiency and better cooling. The GPU is already pretty impressive, so you're in for a treat when you toss in its DLSS 3 Frame Generation tech.
The AMD Ryzen 7 5800X is also a great gaming CPU from its Zen 3 lineup and can still go toe-to-toe with Intel's offerings despite being a last-gen chip, and it should handle whatever sort of workload you've got in your day-to-day, too. It also has PCIe 4.0 for a little bit of future-proofing.
The 1TB NVMe SSD and 16GB DDR4 is a decent memory/storage combo that should serve you well. You could always go for more storage, but 1TB is a great start for now. I like the Skytech Siege's power and cooling options. It has a 360mm AIO and 850W Gold-standard PSU that should keep things cool.
We figured it was only a matter of time before deals for Nvidia's newest generation of GPUs became more available, and with this PC at $1,800, it is hard to recommend many RTX 30-series desktops with similar specs we've seen on sale in the last few weeks.
The only blemish we've noticed with this gaming rig is that the motherboard only seems to support DDR4, so you'll need to upgrade your motherboard if you want to experience the speed of DDR5. My other concern is that I can't confirm exactly what USB ports are included in this system, so keep that in mind. Both aren't absolutely deal breakers, but it's always good to have the info before you check out.