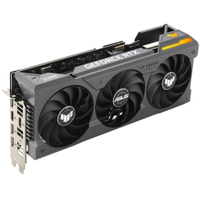 (opens in new tab)
Asus TUF RTX 4070 Ti | 12GB GDDR6X | 7680 shaders | 2,640MHz boost | $979.99 $799.99 at Best Buy (save $180) (opens in new tab)
An overclocked third-party RTX 40-series card with its ludicrous price tag cut back to MSRP. Is this a sign that the high water mark of stupid GPU pricing has been hit? We'll need a little more proof, and the $800 price tag is still steep, but this is one of the best versions of Nvidia's latest GPU with a practically silent cooler and high clock speed.
Best Buy has a deal on an RTX 4070 Ti GPU for only $800 (opens in new tab), aka its MSRP at launch and nearly $200 off its current listing price. In terms of performance, it ranks right under the AMD Radeon 7900 XT in the GPU power hierarchy.
The Asus TUF Gaming GeForce RTX 4070 Ti is an overclocked version of the pricey RTX 40-series GPU. What we like about the RTX 4070 Ti is that it offers pretty much RTX 3090-level performance. It has a lot better cooling for only $50 more than what RTX 3090 cards are selling for right now (opens in new tab).
Its cooling and higher clock speeds make this one of the best third-party cards of the RTX 4070 Ti around, and at this price, it'll be tough to top, which is great because that was always our biggest gripe about the GPU.
Pair this with the power of Nvidia's fancy new DLSS 3 frame generation technology, and you're going to get up to a 4x frame rate increase for RTX 40-series GPUs (opens in new tab). The boost in frame rate works in games like Marvel's Midnight Suns or the upcoming sci-fi shooter Atomic Heart.
The funny thing about product MSRPs is that they are mere suggestions of what retailers should charge for a product. And as we've already seen several GPU launches over the last few years, retailers have no problem selling these powerful RTX 40-series cards at unfairly high prices.
If $800 is still too much money for you, be sure to bookmark our cheap graphics card deals (opens in new tab)page, as it's updated every week with the best deals on GPUs like Intel's budget Arc A750 for less than $300 (opens in new tab).