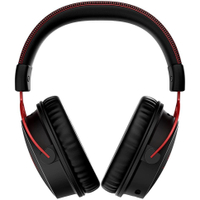 HyperX Cloud Alpha Wireless | 15 - 21,000Hz | Wireless | 300hr battery | $167 at Newegg
There are specific things you want from a wireless headset: comfort, great audio, and a long battery life. The HyperX Cloud Alpha Wireless is the best wireless gaming headset around because it combines all of those key elements. And when we're talking about battery life, nothing else comes close to the 300 hours of listening time they can offer.
I've had my eye on the best wireless gaming headset for a while now: the HyperX Cloud Alpha has pretty much been on my wishlist since early this year. Currently it's sitting at $167 on Newegg, but I know the price has been lower than that, both Prime Days this year, for example, with the summer event seeing the price drop to $149. I hope it does the same—or better—this Black Friday.
If you're not familiar with the HyperX Cloud Alpha wireless gaming headset, it's been one of our favorites for years, thanks to the powerful audio, a clear, detachable mic, and DTS surround sound. The reported 300-hour battery life just makes this headset seem all the more appealing to me too, especially when considering how much time I spend glued to my desk.
I'm going to be honest, my entire audio set-up is a bit of a mess. I've shied away from wireless peripherals more out of habit than anything else, but the idea that they constantly disconnect and/or need recharging is perhaps a bit of an outdated way of looking at it. Sure those things happen but I think the benefits I'd see of actually—finally—embracing a wireless headset are becoming too large to ignore.
I currently have a wired headset but I like to switch between that and my cheap-and-cheerful PC speakers, and it just gets incredibly fiddly and annoying. But I also have a relatively new TV I'd like to use it with because, while the picture is great, the sound is most definitely not. A wireless headset also means I won't need to disturb the rest of the household to be able to hear what's going on in the latest Netflix show.
All of that is even before we get into the amount of time I spend in Discord voice chat, and the various games I enjoy playing with friends. Simple things like having the ability to grab something from the other side of the room without having to interrupt a conversation—or nearly garrotte myself in the attempt—would be incredibly welcome.
Come on, Black Friday, you can do it!