Samsung is no stranger to releasing giant OLED displays that seem like they could swallow you whole. But the Odyssey OLED G9 is looking to completely take over your desk as the "world's first" 49-inch OLED monitor.

I spent some time messing around with Samsung's new OLED display at a private hands-on event, where I kept asking myself if I were ready to become an ultrawide guy. And honestly, I think it's time to ditch my dual monitor setup and go wide, baby.
The Samsung Odyssey OLED G9 is a 49-inch curved ultrawide with a dizzying 32:9 aspect ratio (5120 x 1440 resolution) and 1800R curvature. The first thing you'll notice about the G9 (aside from how freaking wide it is) is how thin it is. The display is about 4.5mm thick, so even though you've got a lot of screen to look at, it doesn't take up a lot of space.
The RGB light ring in the back of the display also has a trick called CoreSync, where the lighting will match the dominant color on the screen, giving a nice ambient lighting effect, as you'd see with something like those cool GoVee light kits or Philips TVs.
The Odyssey OLED G9 is what's considered a "dual-quad HD" display which is essentially like having two 1440p monitors sitting side by side. It also uses Samsung's Neo Quantum Processor Pro chip, an AI processing chip that uses deep learning to upscale the images properly to their resolution. It is a feature on its Neo QLED line of 4K and 8K TVs like the QN90B we checked out last year.
The G9 has a refresh rate of 240Hz and a stellar .03ms response time. This makes it on par with all the current gaming OLED displays on the market right now. Seeing a game like Doom Eternal or Forza Horizon in action is a real treat, albeit it's easy to get a little overwhelmed if you play more than 20 minutes, so it does take some getting used to.
One underrated feature that's not getting enough attention is multiview, which, unlike on the Odyssey Ark, you can do picture-by-picture with multiple device sources. For someone who's a terrible multitasker, I was able to split the display in half with a PC playing Forza on the right and streaming an episode of Conan on the left off the TBS app from the Samsung Media Hub. So there's no stopping a streamer from doing a side-by-by split from a streaming PC and game console (or two PCs if you're feeling frisky) at once, eliminating the need for a second display.
The Samsung Gaming Hub also makes a return. You can download popular game streaming apps like Xbox Game Pass or GeForce Now here. So if your PC isn't beefy enough to play PC games at the full 5120 by 1440 resolution, you can always stream games since you can connect a wireless keyboard, mouse, and gamepad via Bluetooth.
Screen queens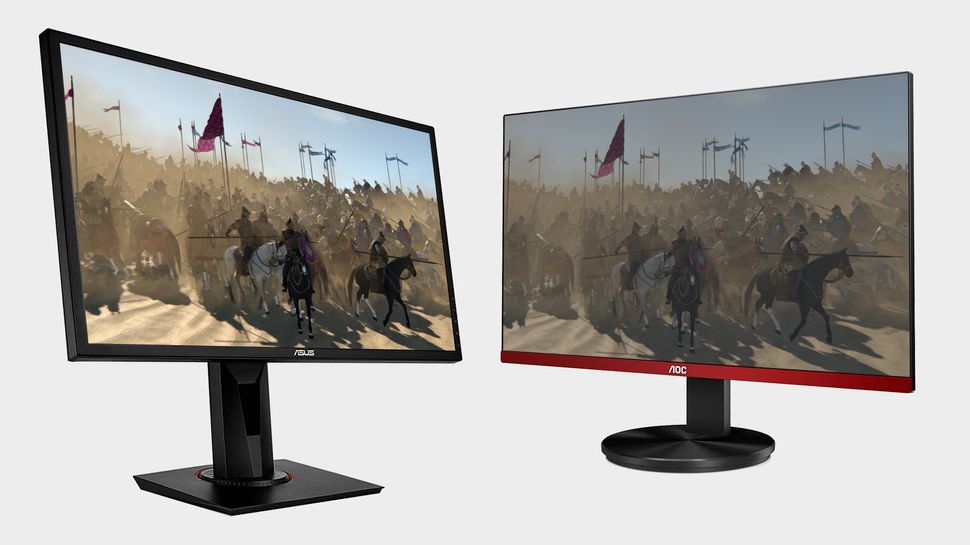 Best gaming monitor: Pixel-perfect panels for your PC
Best high refresh rate monitor: Screaming quick screens
Best 4K monitor for gaming: When only high-res will do
Best 4K TV for gaming: Big-screen 4K PC gaming
I'm not really sure who's buying a $2200 gaming monitor and not having a high-end PC to go with it, but hey, it's good to have options, right? You can install other streaming apps like Netflix and Hulu. It pretty much has all the features of a Samsung TV, except it doesn't have a TV tuner.
Speaking of games, I got to play a handful of titles at 32:9, and as jarring as it was at first, the games looked incredible. I played the beautifully colorful platformer, Planet of Lana, to get a sense of the panel's picture quality and a couple of Fortnite and Call of Duty matches. If you play RPGs or action-adventure games, it's easy to see yourself getting completely sucked in.

I'll admit, vibrant platformers like Planet of Lana do a better job of selling the immersion than a shooter would, mainly because the FOV on shooters at this aspect ratio feels very jarring and stressful. And chances are, if you're playing any competitive, you'll play at 16:9, so you don't have to constantly move your head around to keep up with the actions on the entire screen.

Much like with other OLED displays, the color and contrast are pretty breathtaking
And games will look and play well, assuming you've got the hardware to support it. The gaming PC used in my demo had an RTX 4080 GPU under the hood.
There is still the question of brightness. As you may have heard, the brightness of this generation of ultrafast OLED panels has been disappointing, hovering around 200 nits on average, which is lower than your typical non-OLED display.
A Samsung rep told me that the average brightness of the G9 is around 250 nits, with a peak brightness of 400 nits. For my demo, the lights in the showroom were off, and blackout curtains were put on to block out the sunlight that normally would fill the room, so it felt like I was playing in the middle of the night instead of at lunchtime.
The Samsung Odyssey OLED G9 is available for pre-order now for $2,199 and will ship out at the end of the month.