Cyberpunk 2077 may be the most successful flop of all time. Within weeks of launch, the RPG had sold 13 million copies, even accounting for dissatisfied players refunding the game. It made its eight year budget back in a single day. But those accomplishments couldn't stop Cyberpunk from widely being seen as a disappointment.
It was buggy as hell. The last-gen console version was so bad, it was pulled from sale on PlayStation. It was briefly a particularly dangerous game for players who are prone to seizures. Some investors were so miffed at how CD Projekt Red handled the launch, they filed a class action lawsuit over the share price, which dropped from its high of $31 on December 4, 2020 to only $16 a month later. It's now down to under $9.
CD Projekt's stock price may not have recovered over the last three years, but Cyberpunk 2077 has. In his Phantom Liberty review, associate editor Ted Litchfield called the expansion "a thrilling capstone for Cyberpunk 2077's 3-year redemption arc." The big 2.0 patch released to everyone for free, meanwhile, completely remakes Cyberpunk's progression system, cyberware, vehicle combat, and police. For the last three years, CD Projekt has seemingly been determined to deliver on the potential Cyberpunk 2077 had, but failed to reach, in December 2020.
Here's how Cyberpunk clawed its way back.
December 2020: Launch and rock bottom
The cyberbest of times, the cyberworst of times: CD Projekt's big follow-up to 2015's The Witcher 3 debuted to mega sales and a mixed critical reception. There were some bombastic 9/10s, but we were cooler on Cyberpunk 2077. In our 78% review, we wrote that it was "a pretty good RPG in an amazing setting absolutely sick with bugs," highlighting that the open world of Night City was "an incredible work that the stories within never quite measure up to."
Cyberpunk 2077's quests very quickly became its least significant problem. Within a few days, CD Projekt had held an emergency call with investors, issued an apology to players who were struggling with bugs and poor performance on consoles, and the CEO admitted they'd "ignored the signals about the need for additional time to refine the game on the base last-gen consoles," where the experience was considerably worse.
The reactivity of the world, from physics to shadows to vehicle damage to bullets hitting water, becomes a major point of criticism. Almost as major as the teleporting police.
Bugs like this one and this one and all of these became meme fodder. The bad times kept rolling all month.
December 12: CD Projekt patched a graphical effect in braindances that caused a seizure for one Game Informer writer.
December 17: Cyberpunk 2077 removed from sale on the PlayStation Store, a shocking reversal for a big game, with Sony offering all players refunds.
December 10 - 23: CD Projekt releases four hotfixes before the end of the year, repairing broken save games, stopping crashes, and fixing many, many quest issues.
December 27: Class action lawsuit filed over investor damages as a result of "materially false and misleading" statements from CD Projekt as to the quality of the game on last-gen consoles.
January 2021: The mea culpa
January 13: In a post on the Cyberpunk website titled "Cyberpunk 2077 — Our commitment to quality," CD Projekt's co-founders offered their "personal explanation of what the days leading up to the launch of Cyberpunk 2077 looked like, sharing the studio's perspective on what happened with the game on old-generation consoles."
"We never, ever intended for anything like this to happen. I assure you that we will do our best to regain your trust."
February 2021: Hacked
February 7: CD Projekt Red suffered a hacking breach, with the hacker threatening to dump the source code of Cyberpunk 2077, The Witcher 3, and Gwent, as well as other internal documents. "Your public image will go down the shitter even more and people will see how you shitty your company functions. Investors will lose trust in your company and the stock will dive even lower!"
February 10: After CD Projekt refused to negotiate, the hacking group began leaking source code, starting with Gwent. CD Projekt fought back against the spread with DMCA takedowns.
February 24: CD Projekt announced its next patch for Cyberpunk 2077 would be delayed as a result of the hacking incident, and the overall scope of the update.
March 2021: Patch 1.2 makes a dent
March 22: Cyberpunk's lead gameplay designer left CD Projekt Red after eight years.
March 29: The colossal patch 1.2 is still largely focused on fixing glaring bugs and issues, just like the December and January hotfixes. It fixed nearly 500. On PC, it also enabled ray tracing for AMD users and added keybind options for actions that couldn't previously be customized. It increased the spawn radius for police, a band-aid for the much-criticized teleporting cops issue. It also made some significant vehicle changes, adding a steering sensitivity option and the ability to get vehicles unstuck by rocking them back and forth.
March 30: CD Projekt had previously indicated that its next big game would be a multiplayer Cyberpunk game. On March 30 it announced that plan was scrapped.
April 2021: Baby steps
April 2: Despite the big 1.2 patch a few days earlier, we wrote that you should still wait to play Cyberpunk 2077. "After playing a couple hours with the 1.2 patch, I can't say I really noticed much of a difference," we said. "Post-patch, I still get the bug where I'm suddenly thrown hundreds of meters away from the spot I was standing. I still regularly see NPCs floating in the air… It's just still heavily broken."
April 14: The NCPD suffered another blow in a hotfix, losing the ability to spawn in behind players on rooftops.
April 22: At the D.I.C.E. Awards, Cyberpunk was nominated for RPG of the Year. It lost to Final Fantasy 7 Remake.
May 2021: Changing hands
May 4: The Witcher 3 director Konrad Tomaszkiewicz, who also served as head of production on Cyberpunk 2077, left CD Projekt Red after being investigated internally for workplace bullying. While he was technically cleared in the investigation, he still resigned, apologizing "for all the bad blood" he caused.
May 27: CD Projekt announced a new game director for Cyberpunk 2077, Gabriel Amatangelo. Since then, he's gained a VP title in addition to his game director duties.
May 31: In a quarterly earnings call, CEO Adam Kiciński reiterated his commitment to Cyberpunk, stating "We intend to live up to what we promised our gamers in January."
June 2021: Back on PlayStation
June 21: Cyberpunk 2077 returns to sale on the PlayStation Store, a full six months after it was removed. In just a few days it managed to become the bestselling PS4 game of the month, despite Sony plastering the store page with this warning: "Purchase for use on PS4 systems is not recommended. For the best Cyberpunk experience on PlayStation, play on PS4 Pro and PS5 systems."
August 2021: Progress is slow
August 17: A livestream preview of the next patch was largely not well received by players, who highlighted the need for better police and AI in general more than surface-level changes and cosmetic DLC.
August 18: Patch 1.3 launched with a trio of free DLC, including a car, jackets, and an alternate look for Johnny Silverhand. More significantly, it allowed for respeccing perk points, added database links in journal entries for more information on the characters and world of Night City, a comparison tooltip for cyberware, bulk crafting item upgrading, and kept on fixing bugs, bugs, bugs.
October 2021: Another painful delay
October 20: CD Projekt Red announces that its next batch of "updates, improvements and free DLCs" for Cyberpunk, which were all meant to be released by the end of 2021, were delayed to 2022.
December 2021: CDPR: 0, Modders: 1
December 9: At The Game Awards, Cyberpunk was nominated again for Best RPG and Best Score and Music. It lost Best RPG to Tales of Arise and the music category to Nier Replicant.
December 19: Modders add one of Cyberpunk 2077's most glaring missing features: a working metro system.
February 2022: Now that's a patch
February 15: CD Projekt Red announced and launched patch 1.5 on the same day, including free DLC and the next-gen update for console players. While it didn't fix the police system, it's otherwise exactly the kind of meaty patch people were clamoring for in August 2021. It reworked crowd and enemy AI to some extent, adding new weapons, more apartments for V to buy, the ability to change your appearance, changed the driving model, redesigned some perks, and even added a PC benchmark.
The next-gen update brought ray tracing to consoles, and a HDD mode helped the game run more effectively on old consoles and PCs.
March 2022: End of an era
March 3: CD Projekt pulled Cyberpunk and its other games from sale in Russia and Belarus after the invasion of Ukraine. As a result Cyberpunk 2077 was briefly review bombed, temporarily lowering its Recent Reviews rating on Steam to "Mixed" for the first time. Valve soon marked the reviews as off topic, removing them from the calculation.
March 21: CD Projekt announced a new Witcher game was in development, and will be using Unreal Engine 5, ditching its longtime internal REDEngine. Cyberpunk's development challenges almost certainly played a big part in CD Projekt ditching its internal technology and focusing heavily on multiple new Witcher projects.
April 2022: Oh yeah, that thing
April 14: CD Projekt Red brought up the Cyberpunk expansion for the first time in a year, and said it's now due in 2023. At this point it was unconfirmed there would only be one expansion, but it was beginning to sound like it.
September 2022: Anime to the rescue
September 6: CD Projekt announced Phantom Liberty on the same day it released the Edgerunners patch (1.6), which added a transmog wardrobe to the game, cross-progression for carrying saves across platforms, easter eggs from the Edgerunners anime, and more. It also added modding tools.
In a livestream detailing the patch, game director Gabe Amatangelo also mentioned that "a complete overhaul to the cop system as well as vehicle-to-vehicle combat" were still in the works for a future patch. It would end up taking another year to arrive, but still got us excited.
September 13: Cyberpunk: Edgerunners debuted on Netflix, and it was a hit. A big one. It soon sent Cyberpunk 2077's player count shooting upward to a million a day.
By late September, Cyberpunk 2077 had crossed the milestone of 20 million sales, spurred on by the 1.6 patch and Edgerunners' popularity. Anime-themed mods dominated the Nexusmods page for weeks.
October 2022: Farewell, Stadia
CD Projekt Red earned some brownie points by helping the dozens of Stadia gamers safely export their Cyberpunk save files before the cloud gaming service shut down. No cloud-based gamer left behind; respect.
November 2022: Lotsa eddies
November 28: CD Projekt had the best financial Q3 in its history, earning $21.8 million in profit. "The popularity of the anime series, along with the positive reception of the [Edgerunners] update, visibly affected unit sales of Cyberpunk," the company's CFO said.
December 2022: Outcooling Keanu
December 8: Cyberpunk showed up at The Game Awards again, but this time to reveal that Idris Elba stars in the Phantom Liberty expansion. Or, as we called him, "the only guy cooler than Keanu Reeves."
January 2023: Finally a fan favorite
January 4: Still riding the Edgerunners wave, Cyberpunk 2077 won Steam's community-voted "Labor of Love" award. A small group of players got mad about it.
January 5: CD Projekt finally settled the class action lawsuit with disgruntled investors for $1.85 million.
January 31: A patch added DLSS 3 and Nvidia Reflex support on PC, prepping Cyberpunk for bigger technical updates to come.
April 2023: The ray tracing flex
April 11: CD Projekt Red launched patch 1.2, adding a new ray tracing "Overdrive" mode to Cyberpunk 2077. It looks spectacular.
June 2023: Phantom Liberty shapes up
June 11: We played Phantom Liberty and came away excited to be best buds with Idris Elba, but appreciated the new area, Dogtown, even more.
July 2023: Call it a comeback
July 14: After two and a half years, Cyberpunk's review summary on Steam ticked over to "Very Positive," meaning 80% of its 546,000 reviewers had given it the thumbs up.
July 26: Despite the positive upswing for Cyberpunk 2077 and that very profitable sales quarter in 2022, CD Projekt's stock price had continuously dropped since Cyberpunk's release. It announced plans to cut 9% of its staff as part of an "ongoing process of several deep transformations within the studio."
September 2023: Redemption road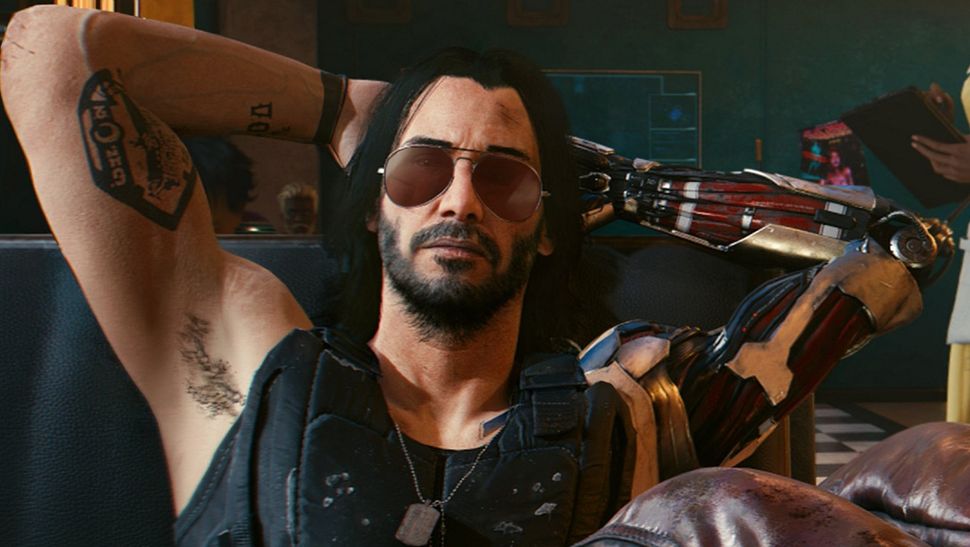 September 20: Phantom Liberty reviews drop to more or less universal acclaim. We awarded it an 87%, calling it "an extra-refined bite of Cyberpunk 2077," and "finally the RPG its world and characters deserved."
Meanwhile, we've also been playing the free update 2.0, and have only good things to say about its revamped police system, way cooler cyberware, and broader RPG systems overhaul, calling 2.0 "a staggering upgrade on its own."