OLED gaming monitors have finally gone from wish list to gaming desk, and nowadays our pick for the best gaming monitor is an OLED panel. They're oh so very nice to play on, trust us. Thankfully, there's more on the way, and I've just had an early look at the new AOC 240Hz OLED monitor set to arrive later this year.
It's called the AOC Agon Pro AG276QZD. Stuffed with a 1440p OLED panel, the main draw here is its 240Hz refresh rate. Though naturally these OLEDs tend to suit gaming with low response times, too, and this one is no different at 0.03ms GtG. It's also G-Sync Compatible and will run Adaptive Sync, so smoothness should be the name of the game.
The eagle-eyed among you will notice this is a similar spec to the LG Ultragear 27GR95QE-B, which we reviewed last month, and that's of course because it is using the same panel. LG makes most OLED panels today, along with Samsung. Acer also has a monitor built with the same LG panel, as does Asus.
That being true, you can draw some conclusions as to the overall performance of this AOC monitor. We liked a lot about the LG, namely its stunning visual quality—you'd expect nothing less of an LG OLED, they're known for delivering superb contrast and colours. But the downside is that the LG panel isn't particularly bright, even by OLED standards.
The AOC is rated to 1000 nits HDR, though that's sure to be in regard to small bright objects rather than all of the screen at full whack. I pressed AOC for some SDR numbers, as that's really where we saw the LG screen struggle, and I was told it's roughly around the 150 nits mark. That's near enough on par with the LG, maybe a little less.
Interestingly, AOC says it tweaked the formula a little, deciding to move the power supply to an external brick with the AG276QZD. That means less heat by the panel and potential to help it sustain higher brightness, but they don't have any digits to share on that just yet. For now, I'm expecting pretty much the same performance as LG's own model.
Screen queens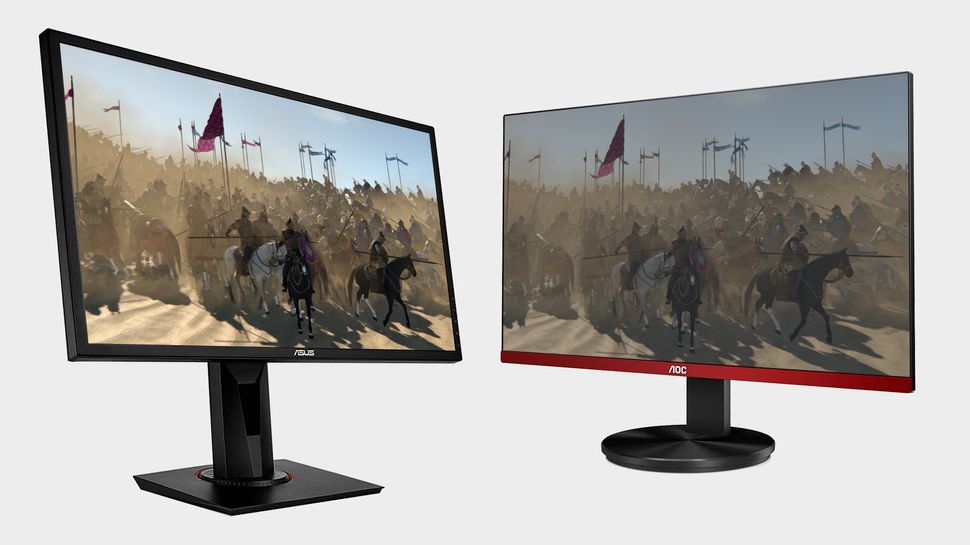 Best gaming monitor: Pixel-perfect panels for your PC
Best high refresh rate monitor: Screaming quick screens
Best 4K monitor for gaming: When only high-res will do
Best 4K TV for gaming: Big-screen 4K PC gaming
The AOC Agon Pro AG276QZD is set to launch at €999, which should put it roughly at the $999 asked for the LG. AOC plans to roll it out starting from June. We'll have a fair few speedy OLEDs to pick from later in the year, too, and that means it will come down to price and those slightly more mundane design choices, like how the stand sits.
To that end, AOC has designed the Agon Pro with a compact stand, which is aimed at reducing the desk space taken up by the monitor for more room for your peripherals, etc. It's a neat looking stand up-close, anyways, and I imagine mostly preferable to the LG's wider stance.