At CES 2023, Acer showed off its newest duo of high refresh rate Predator OLED gaming monitors, the Predator X45 and Predator X27U.
As a 1440p advocate (opens in new tab), it's always good to see more and more high refresh rate QHD gaming monitors getting announced. The Predator X45 is a massive 45-inch curved ultrawide UWQHD OLED, while the Predator X27U is a flat 27-inch QHD OLED.
Both monitors have a refresh rate of 240Hz and a .01 response time. Perfect if you need a monitor for competitive gaming but want a higher resolution to go with the speed.
Typically if you wanted higher refresh rates on a gaming monitor, you were stuck at 1080p. Not anymore. Acer and others are telling hardcore PC gamers they no longer have to make the compromise as long as they have the cash.
The Predator X45's OLED panel supports HDR10 and has a peak brightness of 1000 nits which should give you some good contrast. It even has a pair of HDMI 2.0 ports in addition to its DisplayPort 1.4 port so that you can also plug in your consoles. The X27U is a better choice if you need a little less of a bombastic monitor.
The FreeSync display has a USB hub with USB Type-C to charge your gadgets. I know it's small, but I won't stop shouting that more gaming monitors need this. So kudos, Acer.
The Acer Predator X45 will be available in Q2 of this year for $1,699. If you feel like you're getting deja vu, it's because LG recently just announced its own 3440 x 1440p 45-inch curved OLED gaming monitor at 240Hz, shipping later this month for the same price (opens in new tab). The Predator X27U is due out in the same release window for $1,099.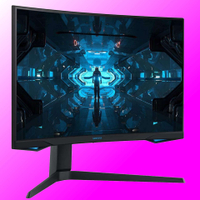 (opens in new tab)