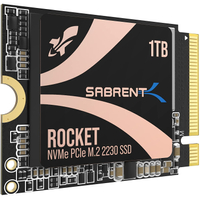 Sabrent Rocket 2230 | 1TB | NVMe | 4,750MB/s read | 4,300MB/s write | $269.99 $109.95 at Newegg (save $160)
If you're looking for a better storage option for your Steam Deck, this Sabrent Rocket 2230 outperforms the Deck's own internal NVMe SDD by a large margin.
If you've been holding out for a sale on an ideal Steam Deck SSD replacement, this is the one: Amazon is selling the Sabrent Rocket 2230 1TB NVMe SSD for only $110. It dropped its price to a reasonable $160 from its initial way-too-pricey $270 in recent months, but this latest discount makes the SSD the cheapest it's been since launch.
The first thing you'll notice is the SSD is pretty small, so it fits perfectly inside a gaming laptop and, more importantly, a Steam Deck. It shouldn't be too hard of an upgrade, though there are ways to screw it up (and void your warranty) if you're not careful.
The Sabrent Rocket 2230 promises a nice 4,750MB/s read speed, and 4,300MB/s write speed, making it a pretty speedy upgrade for the handheld PC. And if you find yourself struggling for storage on your 512GB of Steam Deck, swapping in a 1TB SSD will make a world of difference. We didn't hit those speeds in a Steam Deck, but it definitely was much faster than the stock drive.
According to our testing, The Sabrent Rocket 2230 pretty much wipes the floor with the Steam Deck's internal NVMe. The 512GB version of this drive also puts less strain on the Deck's battery life, and every spare milliamp helps keep you in-game for a few minutes longer. We saw less consistent power draw with the 1TB Sabrent and less consistent speed advantage in games, but it was clearly much faster than the Deck's native SSD in synthetic tests. If you're slapping one of these puppies into your handheld, it's really going to be all about that storage capacity.
If you need something smaller, Amazon has the 256GB and 512GB versions of the same SSD for $45 and $77, respectively.
Anyone searching for a speedy boot drive for non-Steam Deck purposes should check our best SDDs for gaming, which include a lot of 2023 favorites. They'll cost a bit more, but performance is even better on these drives that aren't constrained to this itty bitty 2230 form factor.