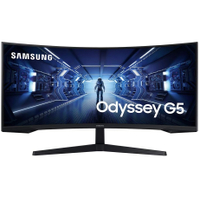 Samsung Odyssey G5 | 34-inch | 165Hz | 3440 x 1440 | VA | $549.99 $399.99 at Amazon (save $150)
A 34-inch ultrawide monster with a 165Hz refresh rate and a 1ms response. It's not a fancy model with a mini-LED backlight, but it's a good screen for the price that offers decent contrast and native FreeSync support.
Amazon is celebrating America's birthday with a deal on a 34-inch Samsung Odyssey G5 curved ultrawide gaming monitor priced at $400. This monitor retails for $550 most days, making this a savings of about $150. $400 is a good deal for a curved monitor this size, although it isn't the cheapest this display has ever been.
The Samsung Odyssey G5 boasts a 34-inch curved ultrawide 1440p display with a 165Hz refresh rate and native FreeSync support, providing benefits for AMD Radeon GPUs and some Nvidia cards. With its 21:9 aspect ratio and 3440x1440 resolution, the monitor immerses you in any videogame or work spreadsheet you have on the screen.
Its specifications are similar to our current favorite budget ultrawide display, the ASRock Phantom, which is $340 on Newegg right now.
It's worth noting that this particular model is not one of Samsung's advanced mini-LED displays. However, it still offers a respectable 165Hz refresh rate, a swift 1ms response time, and impressive contrast. These features make it ideal for playing immersive sims or enjoying the experience of being a pilot in Microsoft Flight Simulator.
The Amazon listing incorrectly states that the monitor has an IPS panel, whereas it actually has a VA panel, as confirmed on the Samsung website. While this discrepancy may cause confusion among shoppers, it is unlikely to be a deal breaker for most.
We previously had this monitor in our office, and the only downsides we noticed were its limited viewing angles and lackluster ergonomics. The monitor allows for limited tilting but lacks swivel capabilities.

Additionally, it is not particularly bright, reaching a peak brightness of around 250 nits. If you plan on using it in a brightly lit room, the display may not look its best. But hey, if you play in complete darkness, Samsung has got the monitor for you.
We saw this monitor on sale for as low as $370 just a few months ago, so if you're not in a rush, you could hold out for a better deal. It is highly likely that it will return as one of the best Amazon Prime Day PC gaming deals next week, so keep an eye out for it.