Fallout 76's map is four times larger than Fallout 4, which means players will have lots of room to explore in Bethesda's post-apocalyptic West Virginia. We're all curious about how Fallout 76's map will be filled in, and what kinds of cool locations we'll find peppered around Fallout 76's Wasteland.
We recently got to spend a few hours playing Fallout 76 so we know a bit about the world now (and we can speculate about what we haven't seen so far). Here are the Fallout 76 locations we know about.
Regions
Fallout 76 is divided into six distinct regions with different biomes, flora, fauna, and levels of difficulty.
The Forest: A wooded and mountainous area in the west that includes the towns of Charleston and Point Pleasant, plus the Nuka-Cola Quantum Plant. It's where Vault 76 is located and where players will begin the game, and so we can assume it's the easiest region to survive.
Savage Divide: The divide runs like a strip from north to south through the center of the map. We don't know much about this region—it's savage, presumably—but it contains the Top of the World Ski Resort and the Green Bank Telescope.
The Mire: Located along the eastern portion of the map. It's home to Harper's Ferry, a town situated along the Potomac and Shenandoah rivers.
Toxic Valley: After the bombs fell on a number of chemical plants and factories, this region was blanketed with white dust. It's also the location of what looks like a space station that crashed to Earth.
Ash Heap: An industrial area in the south west portion of the map, including a mining operation at Mount Blair and trainyard.
Cranberry Bog: A swampy area in the south east. Contains the town of Watoga, notable for its monorail and tower. Todd Howard described this area as being "really, really hard" and not suitable for low-level characters.
Now let's get into some specifics. Here are some of the Fallout 76 locations we know will be within those six regions, and what we know about them so far.
Charleston
Charleston, in The Forest region, is the capital of West Virginia, home to the capitol building, an airport, power plant, and a harbor. Owing to its size and the fact it's located in the region players begin the game in, it's bound to be a major location in Fallout 76.
Helvetia
Helvetia is a town in The Forest region. The real town of Helvetia celebrates a Mardi Gras-like holiday called Fasnacht, which involves the wearing of masks. Reportedly players will be able to collect 10 different masks from this town in Fallout 76.
The Greenbrier
This is certainly a fitting locale for Fallout 76 because there's a real bunker beneath the Greenbrier Resort. The bunker was built in secret during the Cold War as a place to house Congress should there be a nuclear attack. The Greenbrier itself is a sprawling luxury resort located on 11,000 acres of land in White Sulphur Springs.
Mount Blair
There's a big ol' bucket excavator on Mount Blair, and we're hoping we'll actually be able to start it up and dig with it in the game. There's also a trainyard and another Vault-Tec bunker on Mount Blair: Vault 63.
Crashed space station
This is a bit speculative, but there appears to be the remains of a crashed space station in the Toxic Valley region. While it's not canon, the canceled game Fallout: Van Buren planned to have similar-looking space stations that contained nuclear missiles. We know players will be able to fire nukes around the map in Fallout 76, so maybe this is one of the locations they'll be able to launch them from.
Mothman Museum
Mothman is a mythical creature from West Virginia folklore, and the Mothman Museum is a real place. It's a location in the game, too, located in Point Pleasant, in The Forest region.
Nuka-Cola Quantum Plant
Located on the border of Ash Heap and The Forest in Charleston. Sure to be a good source of caps.
New River Gorge Bridge
Again, this is a real bridge in West Virginia, and can be seen in Fallout 76 footage. Bridges in Fallout games have always been sure spots to run into raider camps, but with no raiders in Fallout 76, maybe players will build camps there instead.
Vault-Tec University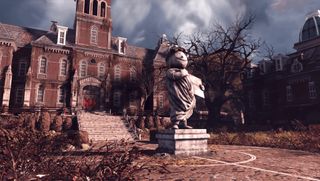 This is another real location—sort of. While in the game it's Vault-Tec University, it's based on West Virginia University in Morgantown. In the game, it's located in The Forest region.
Watoga
Watoga is a town located in the Cranberry Bog region, notable for a tower that can be seen from far away, as well as some broken down monorail tracks.
Other Fallout 76 locations
There are a number of locations we don't have any real details about yet, but they're shown as locations on the in-game map in Fallout 76 footage. Here's a brief list, and we'll add more information as we find it.
Alpine River Cabins
Beckley
Big Bend
Bramwell
Burning Mine
Camden Park
Green Country Lodge
Greenbank
Isolated Cabin
Riverside Manor
Lake Reynolds
Lewisberg
Lumbermill
The Rusty Pick
Summersville Dam
Welch