Images of alleged upcoming Corsair PSUs have me scratching my head today. All the parts of a conventional PSU are present on the new 'Shift' lineup—fan, connectors, power switch—but they're all topsy-turvy.
The bulk of the connectors on a regular PSU are located on the opposite facing side to the power switch and external power connector. However, on the so-called Shift models, they're instead on the side. From the information we have on these unreleased PSUs, this repositioning is intended to make these connections easier to access.
The pictures of the PSU were posted by leaker momomo_us (opens in new tab) on Twitter, so not yet confirmed by Corsair. They look legitimate enough, but we'll have to wait on official confirmation to be sure. Three capacities are noted with SKUs: 1200W (CP-9020254-NA), 1000W (CP-9020253-NA), and 850W (CP-9020252-NA).
Other specs alluded to include: 140mm Fluid Dynamic Bearing fan, 80 Plus Gold ratings, and ATX 3.0 certification. Notably there are no connectors for 12VHPWR, though cables terminating in twin 8-pin connectors can be substituted instead.
If the Shift lineup does turn out to be genuine, it seems likely Corsair would also have plans to tie this PSU launch alongside a suitably sized PC case at the very least. It's not a PSU format I can see working in every bog standard chassis.
Due to the orientation of the fan in the pictures, the cables would extend out towards the side panel of the chassis—at least in a standard PC tower. There'd need to be sufficient room to then route the cables out of the way or else you'll really have to squish them down to squeeze the side panel on. Too much pressure and you could end up with a dodgy connection, and that's the last thing anyone wants.
In the right case, however, I could see this design making accessing each PSU connector a helluva lot easier. Handy for upgrades where you might need to pull a cable or add one in on the fly. Similarly could offer some easy routing for cables with less of a mass of cables to untangle first. So perhaps there's something pretty ingenious here—in the right circumstances.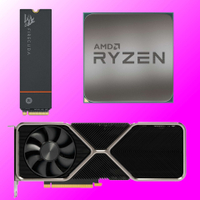 (opens in new tab)