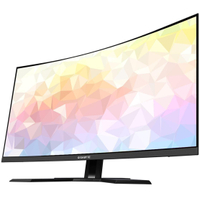 Gigabyte M32UC | 32-inch | 4K | 144Hz | FreeSync Premium Pro | $629.99 $529.99 at Newegg (save $100 with code GTRDCTA3254)
Here's our pick for the best budget 4K gaming monitor, but now it's even cheaper. That's a deal we can't pass up. It's a gloriously simple panel, too, with a no-frills look paired with a speedy refresh up to 144Hz and a handy USB hub. Our Jacob uses this panel daily, and he's had no complaints with it so far.
A tasty gaming monitor offering here, the Gigabyte M32UC is one of our favourite 4K monitors thanks to its affordability, practical USB hub integration, and high refresh that's actually overclockable. You can get the M32UC at Newegg for $530 right now, when you use code GTRDCTA3254.
That's a good $100 cheaper than the listing price. In other words, now might be a good time to invest in a 32-inch, curved gaming monitor.
We scored the M32UC at 87 in our recent review, and for a panel that's generally priced at $600, its already a good budget buy without the discount. Right now it's on our best gaming monitors list as the "best affordable 4K gaming monitor", in fact, so you can expect a no-frills goodie that gets the job done, but at much less of an investment than your average 4K gaming monitor.
Not only does this thing rock a 2ms grey-to-grey response time, it comes in with a 144Hz refresh rate, so you can make the most of high-powered graphics cards like Nvidia's RTX 4090 or the AMD Radeon RX 7900 XTX.
And if you manage to push your frame rates past the 144 fps mark, you also have the option to overclock up to 160Hz to match it. Whether that will be useful at 4K even with one of those powerful GPUs behind you is another matter, but it'll be great if you want to switch down the resolution every now and then for some competitive gaming.
FreeSync Premium Pro gives the M32UC a bit more security when it comes to screen tear, and that means more of that magical, elusive immersion everyone's so obsessed with. The curvature of the panel helps there, too...
Like digital blinkers to block out all that so-called life happening around you.
With a USB 3.2 hub, too, you haven't got to feed your wires all the way round the back of your PC, which is always appreciated. That includes 1x USB Type-C, 3x USB 3.2 Type-A and 1x USB 3.2 Upstream. Oh, and a 3.5mm audio jack, too.
While the Gigabyte M32UC only comes with a DisplayHDR 400 certification, there's minimal ghosting to worry about, and as our Jacob notes in his recent review, "Fine details are well preserved and this panel doesn't struggle with saturation, which makes for a luscious and vibrant image."
Just don't forget the code or you will only get $60 off, instead of the $100: GTRDCTA3254.