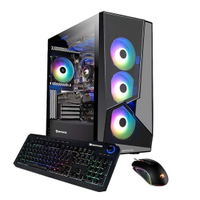 (opens in new tab)
iBuyPower Slate MR294i | Intel Core i9 11900KF | Nvidia RTX 3070 Ti | 1TB SSD | 16GB RAM | $1,899.99 $1,499.99 at Best Buy (save $400) (opens in new tab)
I had to remove a couple of other deals from this list to make way for this one. It made the RTX 3070 deal we had posted previously practically pointless for the same price. No, this is the way to go: nearly an RTX 3080 PC for the price we're often finding an RTX 3070 PC going for. The Intel chip is a bit older now, but it's a powerful Core i9 so no complaints there, and the rest of the spec looks well rounded indeed.
The RTX 3070 Ti is a fine graphics card from the last generation, itself not a million miles off the performance of the once-mighty RTX 3080 (opens in new tab). But it is still a $600+ graphics card and that makes it almost impossible to recommend anyone buys as a standalone upgrade.
But as part of a full gaming PC, well, it actually makes for a great new rig especially with this iBuyPower machine on sale at Best Buy for $1,500 (opens in new tab). That's around the price that until recently was the preserve of RTX 3060 (opens in new tab) machines, and only recently has become the price tag you might expect for an RTX 3070 gaming PC.
The RTX 3070 Ti is comfortably faster than the RTX 3070 (opens in new tab) because it's using the complete GA104 GPU. That gives it 6,144 CUDA cores vs. the older card's 5,888 and uses the same high-speed 19Gbps GDDR6X memory as the RTX 3080/Ti cards.
In fact, that puts it above the AMD RX 6800 (opens in new tab) (non XT) card in terms of gaming performance, a card which itself was no slouch.
The rest of the spec matches up to GPU, too. The Core i9 11900KF (opens in new tab) (essentially the same as an i9 11900K but without an integrated GPU) is a couple of generations old now, but the eight-core, 16-thread CPU is still a powerful gaming chip, if a little power hungry with its 14nm cores. It's not the CPU we'd rush out and build a machine around ourselves today, but as part of a pre-built machine it won't let you down.
Nor will the 1TB NVMe SSD or the 16GB of DDR4-3200 memory, either.
The power supply is maybe the weakest part of the build. That 600W PSU will happily run this spec, but if you look to upgrade in the future, a new power supply might be necessary if you end up with a beefier graphics card.
Okay, hear me out...
This isn't you're only option, however, because if you're willing to do a little light GPU installing, there's another option that will net you an RTX 3060 TI-level gaming PC for just $1,080. You simply buy this GPU-less CLX rig for $690 (opens in new tab) and pair it with an RX 6700 XT for $350 (opens in new tab).
The main spec is essentially the same as the Ryzen 7 5700G is another eight-core, sixteen-thread CPU and you get 16GB of speedy DDR4 memory, and a 1TB NVMe SSD, too.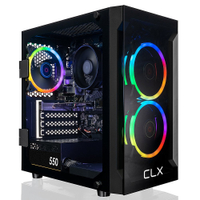 (opens in new tab)
CLX SET gaming desktop | AMD Ryzen 7 5700G | 16GB RAM | 1TB SSD | $769.99 $689.99 at Best Buy (save $80) (opens in new tab)
Okay, hear me out here. This isn't the best PC to buy as it's sold. But, if you were to pick up this machine, which has a pretty good eight-core CPU, plenty of RAM, and lots of storage, you could buy a graphics card separately and fit it into this machine yourself. My vote would be the AMD Radeon RX 6700 10GB, which you can pick up on Best Buy for $329.99 (opens in new tab). Combine that with this machine and you've got a really great mid-range gaming PC for $1,020.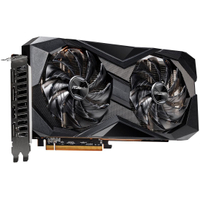 (opens in new tab)
ASRock Challenger RX 6700 XT | 12GB GDDR6 | 2560 shaders | 2,615MHz boost | $349.99 at Newegg (save $10) (opens in new tab)
The RX 6700 XT is still our favorite mid-range gaming GPU, competing with the regularly more expensive RTX 3060 Ti from Nvidia. This is the cheapest version we've found today, and comes with a solid, dual-fan cooler and a decent price tag.