It's been a long time coming, nearly five months to be precise, but you can now get AM5 motherboards for $125. We give you the ASRock B650M-HDV/M.2.
Back when AMD released the Ryzen 7000 series CPUs (opens in new tab) and their new AM5 platform last year, AMD said motherboard pricing would start at $125. In fact, prices kicked off way higher than that and it's only now that AMD's promise has come true.
When AM5 launched I said that we would see motherboards starting at $125. As @HotHardware noticed, my timing *might* have been a bit off... (https://t.co/TJtRCUirxY) but I'm happy to see that ASRock is first to market with a $125 B650 board for @AMDRyzen https://t.co/c19zLBnTNs pic.twitter.com/G6CKqfx57IMarch 9, 2023
Funnily enough, it's AMD itself that has shouted out the new pricing and even called itself out for tardiness in hitting that $125 target.
As for the $125 board in question, perhaps not surprisingly it comes from ASRock, ever the purveyor of appealingly priced PC components. The ASRock B650M-HDV/M.2 is up for precisely $124.99 on Newegg (opens in new tab) and the immediate question is just how cut down it is to hit that price point.
For starters, it's a Micro-ATX board, which automatically limits connectivity. So, you get just two DIMM slots for memory, a total of just seven USB ports and four SATA sockets. However, the good news is that there are two 2280 length M.2 slots for speedy storage, one PCIe Gen 5 spec, the other PCIe Gen 4.
The Realtek ALC897 audio chip isn't exactly cutting edge, but hey there's a 2.5Gb ethernet port, DisplayPort and HDMI and USB-C. So, in reality, it's got most connectivity needs fairly well covered.
Even better, there's an M.2 Wi-Fi slot and antenna mounting points ready for your wireless networking setup of choice. Sure that adds to the cost. But if you already have an M.2 E Wi-Fi card, you can move it over to this new board. Anyway, we wouldn't really expect Wi-Fi as standard given the price point.
Overall, though we're never in love with the idea of going with Micro-ATX on the basis of cost, the ASRock B650M-HDV/M.2 does look like a viable option, especially thanks to the dual M.2 storage slots.
With DDR5 memory having also come down a lot since Ryzen 7000 launched, the cutting edge mobo, CPU and memory trifecta in AMD flavour now looks pretty attainable. It's just a pity that the final piece of the puzzle, graphics, remains painfully pricey.
Indeed, you could grab this motherboard, a Ryzen 7 7700X CPU (opens in new tab) and 32GB of DDR5 RAM for about $600. That's a lot less than you'll pay for an AMD Radeon RX 7900 XT alone, even with its latest price drop to $799 (opens in new tab). So it goes.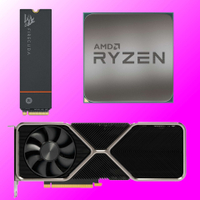 (opens in new tab)